Miriam, human rights defender, 1947-2012
HE WHO PERMITS OPPRESSION PERMITS CRIMES.-Erasmus (1466-1536)
Desiderius Erasmus in 1523 as depicted by Hans Holbein the Younger. The Greek and Latin words on the book translate to "The Herculean Labors of Erasmus of Rotterdam".
Survival International provides a useful
tool
for locating the embassy of any country in your country. http://embassy.goabroad.com/ You can also
find embassies
at https://embassy-finder.com/
CHARITY CORNER
This week we call you attention to
Books for Africa
.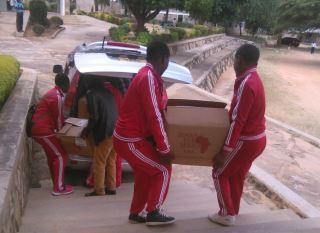 Their mission statement:
A simple name for an organization with a simple mission. We collect, sort, ship, and distribute books to students of all ages in Africa. Our goal: to end the book famine in Africa.
It has a
high rating with Charity Navigator
and is worthy of your support.
A more detailed description is given in their name by Charity Navigator:
Founded in 1988, Books for Africa (BFA) collects, sorts, ships, and distributes books to children in Africa. Our goal is to end the book famine in Africa. Books donated by publishers, schools, libraries, individuals, and organizations are sorted and packed by volunteers who carefully choose books that are age and subject appropriate. We send good books, enough books for a whole class to use. Since 1988, Books For Africa has shipped more than 35 million books to 48 African countries. They are on once-empty library shelves, in classrooms in rural schools, and in the hands of children who have never before held a book. Each book will be read over and over again. When the books arrive, they go to those who need them most: children who are hungry to read, hungry to learn, hungry to explore the world in ways that only books make possible.
INDIGENOUS PEOPLE
Indigenous tribes do not simply die out. They are killed by the actions of so-called civilized nations.
Survival International
provides a long list of cases in which a letter from you can and will make a difference. Please open this link and write at least one letter. This link will be a permanent feature on our blog and we would be grateful if you gave it a bit of attention each week. We suggest going down the list in the order given. The letters are pre-written for you. All you need to do is send them. It would be nice also if a donation to Survival International could be forthcoming. We send you to the
campaign page
and urge you to choose a cause to support.
View this video.
THE STRUGGLE AGAINST SLAVERY
We have added this section to the blog in order to join the struggle against slavery worldwide. This week we refer you to the the
ILO's Protocol on Forced Labo
r which is all about modern slavery. We call your attention to the
anti slavery campaign.
There you can sign up for action updates.The importance of checking your sellers' supply chains cannot be overemphasized.
Look for these logos:
Blast it out and make it go viral. Find a campaign to work for. Light must be made to shine in the darkest of places.
Think of your own child or grandchild
Good News! - Angola:
Charges Against Arão Bula Tempo Dropped
The Cabinda Provincial Tribunal
dismissed the criminal charges
against human rights lawyer Arão Bula Tempo on 12 July.
No further action is requested of the UA Network. Many thanks to all who sent appeals.
China:
Release Activists Detained for Exercising Rights to Freedom of Expression
Four activists have been formally arrested for "inciting subversion of state power" for commemorating the 27th anniversary of the Tiananmen crackdown by promoting a Chinese alcohol with a June 4 label including a picture of the "Tank Man".
Please call for their release.
Russian Federation:
Review Detention of Konstantin Zadoya
A young man with no history of mental health concerns has been detained in a psychiatric hospital and forcibly treated following an argument with his father. The relevant court order was issued following a hearing that violated his right to a fair trial.
Please protest for him.
Dominican Republic:
Ensure Access to Abortion
The Dominican Republic Congress voted on a new reform of the Criminal Code on 19 July. This new code regresses the rights of women and girls as it now only allows abortion where the pregnancy poses a risk to the life of a pregnant woman or girl. The text will now be discussed in the Senate before being sent to the President.
Please call for protection of abortion rights.
INDIA
Union-busting escalates at SABMiller India following attack on rights in Australia.
Please click to
support the struggling workers.