Miriam, human rights defender, 1947-2012
We can start off with a bit of good news.
SUDAN: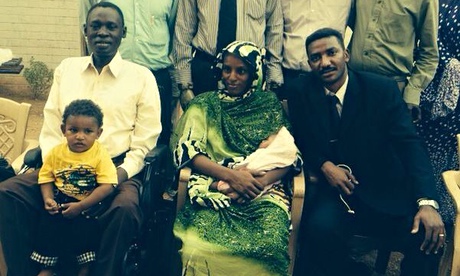 Meriam Ibrahim holding her daughter Maya, who was born in prison. Her husband Daniel Wani sits to her right holding their son Martin Photograph: theguardian.com
A
Christian woman on death row
in a Sudanese prison has been released on the orders of a court in Khartoum following an international outcry over her sentence and treatment.
Meriam Ibrahim, 27, had been sentenced to 100 lashes for adultery and to be hanged for apostasy after refusing to renounce her faith. Her case led to an international campaign, drawing in political and religious leaders, celebrities and human rights organisations. As you can see, there is value to our outcries.
Now to the bad stuff:
TAJIKSTAN PHD STUDENT ARRESTED, HELD INCOMMUNICADO
Tajikistani national Alexander Sodiqov,
who is a resident in Canada, was arrested on 16 June in eastern Tajikistan while conducting academic research. There are fears for his safety and concerns that he may face torture or other ill-treatment. Please act on his behalf.
CUBA: JOURNALIST THREATENED AND ATTACKED
Roberto de Jesús Guerra Pérez,
director of the independent news agency Hablemos Press has been receiving threatening telephone calls and was assaulted on the streets of Havana, the capital. He believes these are attempts by the Cuban authorities to dissuade him from continuing his activities as a journalist. Please register your protest over this violation of freedom of the press.
SWAZILAND: STRIKE SUPPRESSION
Striking Swaziland sugar workers need your support!
This is a click and send, so please devote a second or two.