Miriam, human rights defender, 1947-2012
EMBASSY FINDER
Survival International provides
a useful tool for locating the embassy
of any country in your country.
INDIGENOUS PEOPLE
Indigenous tribes do not simply die out. They are killed by the actions of so-called civilized nations. Survival International provides a long list of cases in which a letter from you can and will make a difference.
Please open this link
and write at least one letter. This link will be a permanent feature on our blog and we would be grateful if you gave it a bit of attention each week. We suggest going down the list in the order given. The letters are pre-written for you. All you need to do is send them. It would be nice also if a donation to Survival International could be forthcoming. This week we focus on the various tribes of Brazil. You can learn much
about these tribes at this link
and find a letter to the
President of Brazil here.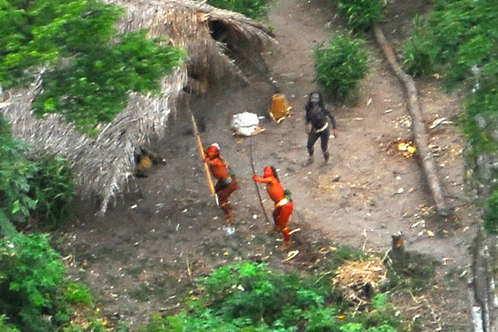 Uncontacted Indians in Brazil appear defensive from the air. This photo was taken in 2008.
© G. Miranda/FUNAI/Survival
AFGHANISTAN
This is not an action call, but an information update. Thanks to all who wrote on behalf of Brishna, the ten year old rape victim. Following the conviction of Brishna's rapist on 25 October, the Afghan authorities have now committed to ensuring her protection. The 10-year-old girl from Kunduz province is receiving medical and psychological attention.
Read more.
DEMOCRATIC REPUBLIC OF CONGO
Ugandan political activist Sam Mugumya is detained incommunicado by the army in the Democratic Republic of Congo (DRC). The Ugandan government have accused him of planning a rebellion against them. He is at risk of torture and other ill-treatment.
Please act for him.
CAMBODIA
The Venerable Loun Sovath, a Cambodian Buddhist monk and human rights defender known as the "multimedia monk" faces trial on baseless charges of incitement. If convicted he could be sentenced to up to two years' imprisonment and a heavy fine. If imprisoned, he would be considered a prisoner of conscience.
Please act to protect him.
ISRAEL/OCCUPIED TERRITORIES
The Israeli government has ordered the demolition of the family homes of at least seven Palestinians who carried out attacks which killed Israelis. Israel claim they have to do this to deter future attacks. This punishment of innocent people is illegal and immoral.
Please act.
SOUTH KOREA
A union activist has been fired by McDonald's for speaking out about workplace issues such as unsafe workplace practices.
Please join the worldwide campaign to get her back her job.
Gahyun Lee