Miriam, human rights defender, 1947-2012
First we wish a Happy New Year to all our friends and readers. May 2016 be a better year for human rights than its predecessors.
HE WHO PERMITS OPPRESSION PERMITS CRIMES.-Erasmus (1466-1536)
Desiderius Erasmus in 1523 as depicted by Hans Holbein the Younger. The Greek and Latin words on the book translate to "The Herculean Labours of Erasmus of Rotterdam".
EMBASSY FINDER
Survival International provides a useful
tool
for locating the embassy of any country in your country.
http://embassy.goabroad.com/ You can also find
embassies at this link
. https://embassy-finder.com/
WRITE FOR RIGHTS
In December, in connection with World Human Rights Day, December 10, Amnesty International sponsors this campaign of letter writing for human rights. You are invited to join in. Here are
12 egregious cases
of gross violations of the human rights of individuals around the world.Do as many as you can.
You can also find more cases on Twitter at the hashtag
#Write4Rights
posted by
Ai Wei Wei.
CHARITY CORNER
In the wake of the closing of the Titan and Pollyanna blogs, we are continuing the charity corner here. This week, the we refer you to the
Union of Concerned Scientists.
In the wake of the need for action to combat climate change, the is an organization of independent scientists united to confront the real dangers confronting all of humanity. Their scientists and engineers develop and implement innovative, practical solutions to some of our planet's most pressing problems—from combating global warming and developing sustainable ways to feed, power, and transport ourselves, to fighting misinformation and reducing the threat of nuclear war. This is a most worthy cause.UCS continues to receive recommendations from the United States' premier charity rating agencies, Charity Navigator, the Better Business Bureau, and the American Institute of Philanthropy. Please donate.
INDIGENOUS PEOPLE
Indigenous tribes do not simply die out. They are killed by the actions of so-called civilized nations.
Survival International provides
a long list of cases in which a letter from you can and will make a difference. Please open this link and write at least one letter. This link will be a permanent feature on our blog and we would be grateful if you gave it a bit of attention each week. We suggest going down the list in the order given. The letters are pre-written for you. All you need to do is send them. It would be nice also if a donation to Survival International or to
Cultural Survival
could be forthcoming.
Protest-Harvard=Looting
This week we call upon you
to urge Harvard University to behave in a responsible way
toward the wetland region essential for the well being of the Guaneri people.The Iberá wetlands system in Argentina is one of the world's largest freshwater bodies, but it is under threat. Vast monocrop pine and eucalyptus plantations have virtually eliminated biodiversity in more than half of the wetlands, devastating freshwater levels and dramatically affecting the livelihoods of the Guaraní Indigenous People who have lived in relationship with the lands for generations and depend on these ecosystems. Who's responsible? None other than Harvard University. Please sign the petition.

THE STRUGGLE AGAINST SLAVERY
Walk Free
where you can find a large number of campaigns against manifestations of slavery in different countries. The number of people living in slavery is of the order of 35 million, which indicates the extent of the problem. We suggest that you look up the
Fair Trade
movement in your country and make an effort to avoid buying slave-produced products. Look for this logo:
This week we return to the issue of the scandalous treatment of migrant workers in Qatar where a football World Cup facility is being build by what is essentially slave labor. If you have not joined this campaign,
please click
and raise your voice to both Qatar and to FIFA.
VIETNAM
Vietnamese lawyer Lê Thu Hà, a human rights activist, was arrested on 16 December, at the same time as prominent human rights lawyer Nguyễn Văn Đài, a colleague. No other activists have been allowed to see her, and she is at risk of torture and other ill-treatment.
Please act for her.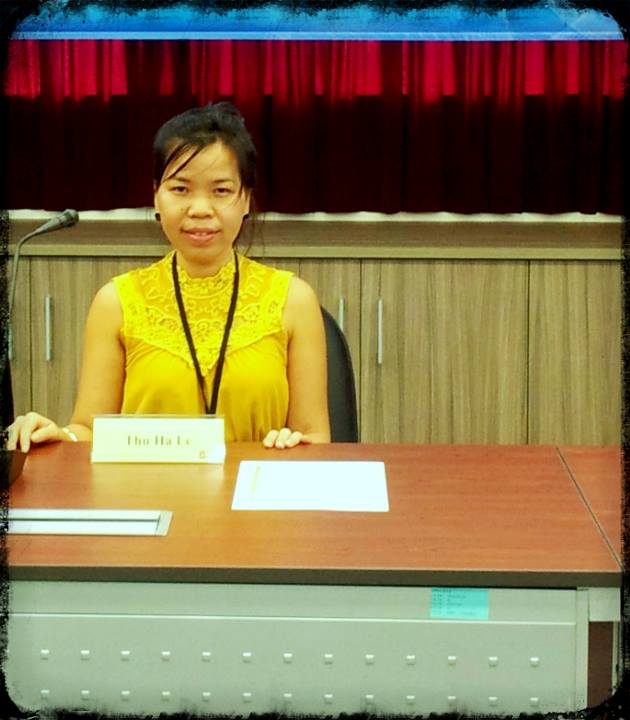 Miss Le Thu Ha at a local seminar on human rights issues
TUNISIA
Six Tunisian men have been convicted of 'sodomy' and jailed for three years, the maximum provided by Tunisian law.
Please call for their release
and for the decriminalization of consensual same-sex relations,
GUINEA
Following the wave or arrests of opposition members and trade unionists ahead of the 11 October elections, 10 of the at least 35 opposition members arrested in Koundara, northern Guinea, have been released on bail. The other 25, including a minor, are still in detention. Five trade unionists, including Jean Dougo Guilavogui, remain in arbitrary detention in Conakry, the capital. Their trial has been postponed and Jean Dougo Guilavogui has been denied access to adequate medical care.
Please act for them.
CHINA
The crackdown on labor leaders continues. Since 3 December, the authorities in the southern Chinese province of Guangdong have carried out a coordinated and wide-ranging crackdown on labour rights activists and labour organizations in the province. More than 25 people have been targeted.
Please click and join the outcry.