Miriam, human rights defender, 1947-2012
HE WHO PERMITS OPPRESSION PERMITS CRIMES.-Erasmus (1466-1536)
Desiderius Erasmus in 1523 as depicted by Hans Holbein the Younger. The Greek and Latin words on the book translate to "The Herculean Labors of Erasmus of Rotterdam".
Survival International provides a useful
tool
for locating the embassy of any country in your country. http://embassy.goabroad.com/ You can also
find embassies
at https://embassy-finder.com/
CHARITY CORNER
This week we call your attention the
Center for Victims of Torture
. Their missions are many, one of them healing.
Healing the Wounds of Torture
We rebuild lives by extending healing care to survivors of torture. Our healing care in Minnesota, Georgia, Africa and the Middle East restores hope so survivors can once again live healthy, productive and peaceful lives.They have a high rating from Charity Navigator.
Please donate.
INDIGENOUS PEOPLE
Indigenous tribes do not simply die out. They are killed by the actions of so-called civilized nations.
Survival International
provides a long list of cases in which a letter from you can and will make a difference. Please open this link and write at least one letter. This link will be a permanent feature on our blog and we would be grateful if you gave it a bit of attention each week. We suggest going down the list in the order given. The letters are pre-written for you. All you need to do is send them. It would be nice also if a donation to Survival International could be forthcoming. We send you to the
campaign page
and urge you to choose a cause to support.
View this video.
Tribal peoples are the best conservationists and guardians of the natural world. But they are being illegally evicted from their ancestral homelands in the name of conservation. They face arrest and beatings, torture and death, while big game trophy hunters are encouraged.
Please join the call
for a new approach to conservation.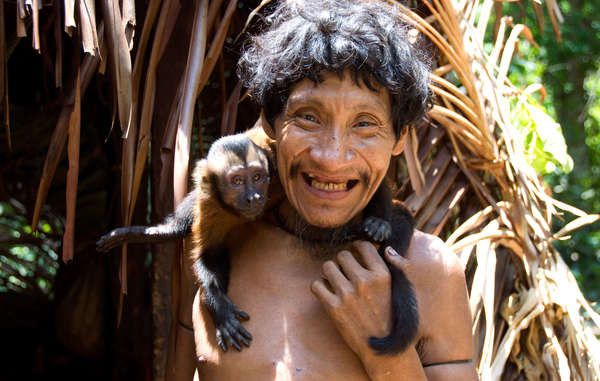 © Fiona Watson/Survival
THE STRUGGLE AGAINST SLAVERY
We have added this section to the blog in order to join the struggle against slavery worldwide. This week we refer you to the the
ILO's Protocol on Forced Labo
r which is all about modern slavery. We call your attention to the
anti slavery campaign.
There you can sign up for action updates.The importance of checking your sellers' supply chains cannot be overemphasized.
Look for these logos:
Find a campaign to work for. Light must be made to shine in the darkest of places.
A major food component, palm oil, is obtained by child labor.
Read the report from Amnesty International
and protest to the corporations that exploit child labor. Nine multinational companies confirmed they get palm oil from Wilmar's Indonesia operations, but only two would confirm which products the palm oil goes in. Tweet at your favorite brands to ask companies if they are using palm oil tainted by human rights abuses.
Child transporting a wheelbarrow full of heavy palm fruit bunches over a narrow bridge on a plantation that was investigated in North Sumatra, name of company and location withheld for safety. Credit: Amnesty International/Watchdoc
WRITE FOR RIGHTS
This is the time of year to take action on human rights in a big way.
Amnesty International offers its
Write for Rights program.
Write like someone's life depends on it. Sometimes a letter can change someone's life. That's the premise of Write for Rights, Amnesty's global letter-writing campaign. Today, it's one of the world's biggest human rights events.
Every December, Amnesty supporters across the globe will write millions of letters for those whose basic human rights are being attacked. They are people like you, continuing a long tradition of writing letters to right some of the world's biggest wrongs.
And it's not just letters – it could be petitions, emails, Tweets, Facebook posts, photos, postcards. Your words really can change lives. Join us.
INDONESIA
Take Action! - Peaceful Activist Sentenced To A Year In Prison
Peaceful Papuan political activist, Steven Itlay, has been convicted of 'incitement' and sentenced to one year imprisonment in Timika, Papua province.
Please call for his immediate and unconditional release.
CHINA
Take Action! - Missing Lawyer At Risk Of Torture
Beijing human rights lawyer, Jiang Tianyong, has not been heard from since 21 November when he was due to board a train to Beijing from Changsha, Hunan. He has been previously detained and is at risk of torture or other ill-treatment.
Please call for an immediate,
impartial, independent and effective investigation into Jiang Tianyang's fate and whereabouts, with public disclosure of its findings and bringing those responsible to justice.
GAMBIA
Take Action! - Ex-Government Official Held Incommunicado
Mamadou Sajo Jallow, an ex-deputy Minister of Foreign Affairs has been held incommunicado for more than two months at the National Intelligence Agency (NIA) without access to his family or a lawyer. He remains in detention despite a court granting him bail.
Please call for his immediate release.
TURKEY
More Action Needed! - Hundreds Of NGOs Permanently Closed
375 registered associations and NGOs were permanently closed and their assets seized following an executive decree No. 677 issued on 22 November. NGOs whose activities had been suspended on 11 November are among those who appear on the list of closed organizations. Even under the state of emergency, this closure cannot be justified.
Please call for repeal of the decree and the reopening of the NGO's.