Miriam, human rights defender, 1947-2012


HE WHO PERMITS OPPRESSION PERMITS CRIMES.-Erasmus (1466-1536)
Desiderius Erasmus in 1523 as depicted by Hans Holbein the Younger. The Greek and Latin words on the book translate to "The Herculean Labors of Erasmus of Rotterdam".
EMBASSY FINDER
Survival International provides a
useful tool
for locating the embassy of any country in your country.
http://embassy.goabroad.com/ You can a
lso find embassies
at https://embassy-finder.com/
CHARITY CORNER
In the wake of the closing of the Titan and Pollyanna blogs, we are continuing the charity corner here. This week we refer you the
Malala Fun
d for education for girls in the Third World. Malala's
story of how she was shot
by the Taliban for blogging for education for girls is well known. Last year she celebrated her 18th birthday in Lebanon by opening the Malala Fund's "Malala Yousafzai All-Girls School" near the Syrian border, which will provide quality secondary education to more than 200 Syrian girls living in informal camps and out of school in the Bekaa Valley region.
Happy birthday Malala
Good News!
China: Zhang Kai Released (UA 190/15)
A prominent human rights lawyer supporting churches resisting the removal of crosses was released on 23 March after being detained for seven months.
Many thanks to those who sent appeals. No further action is requested of the UA network.
INDIGENOUS PEOPLE
Indigenous tribes do not simply die out. They are killed by the actions of so-called civilized nations.
Survival International
provides a long list of cases in which a letter from you can and will make a difference. Please open this link and write at least one letter. This link will be a permanent feature on our blog and we would be grateful if you gave it a bit of attention each week. We suggest going down the list in the order given. The letters are pre-written for you. All you need to do is send them. It would be nice also if a donation to Survival International could be forthcoming.
This week we call your attention to the
issue of mercury poisoning
among the Yanomami and Yekuana tribes in the Amazon rainforest. A study of hair samples from Indians of 19 communities was conducted by Brazilian health foundation Fiocruz, together with the Hutukara Yanomami Association, Brazilian NGO ISA (Socio-Environmental Institute), and APYB, the Yekuana Association. It found that over 90% of Indians in one region are severely affected.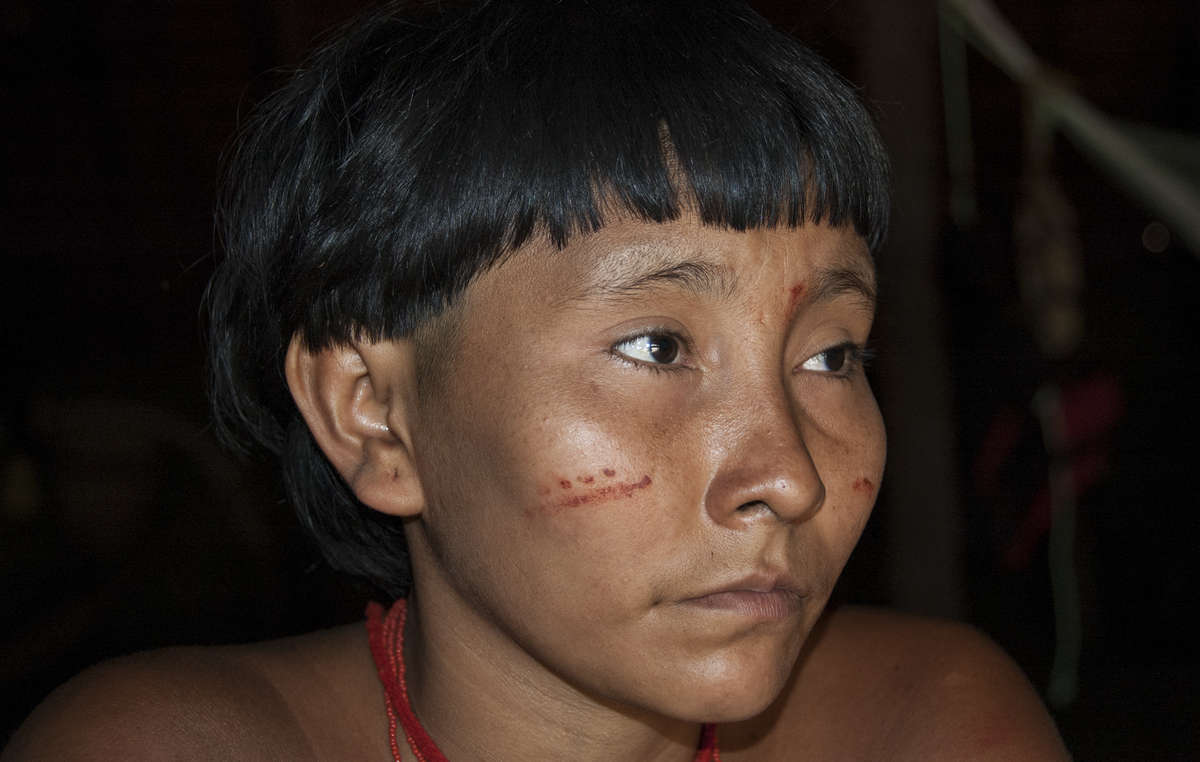 llegal miners are polluting the Yanomami and Yekuana tribes' rivers.


© Fiona Watson/Survival
Illegal gold miners operating on Yanomami land are polluting the Indians' rivers with mercury, used in the gold-extraction process. The metal then enters the food chain via the river water which the Yanomami drink, and the fish on which they rely as a key part of their diet. Please send your outcry to the Brazilian government and your local Brazilian embassy (vid. the site) and share it loudly on all your social media.
THE STRUGGLE AGAINST SLAVERY
We have added a new section to the blog in order to join the struggle against slavery worldwide. This week we refer you to the site of the
CNN Freedom Project
where you can find a large number of campaigns against manifestations of slavery in different countries. The number of people living in slavery is of the order of 35 million, which indicates the extent of the problem. We suggest that you look up the
Fair Trade
movement in your country and make an effort to avoid buying slave-produced products.
Look for these logos:



This week we refer you to
Antislavery International
, a UK based campaigning organization. There are choices of campaigns on their Web site. Please act on the issue that hits you hardest.
BANGLADESH
Leader of political party Jamaat-e-Islami, Motiur Rahman Nizami, is at imminent risk of execution following the Supreme Court of Bangladesh's decision on 6 March to uphold his death sentence. Nizami is seeking to have the Supreme Court review its decision but should this be rejected, Nizami could be executed in less than two weeks.
Please call on the government
to halt this and all other scheduled executions and to abolish capital punishment.
CHAD
Mahamat Nour Ibedou, Younous Mahadjir, Nadjo Kaina Palmer and Celine Narmadji are being detained by the judicial police of N'Djamena, Chad, for planning to organise peaceful demonstrations that were to take place on 22 March and 29 March, to protest against President Idriss Deby's re-election bid. They are charged with
'disturbing public order
' and '
disobeying a lawful order'
.
Please call for their release
and the dropping of all charges.
INDIA
Prabhat Singh, a journalist from the central Indian state of Chhattisgarh has been arrested and charged for allegedly sharing a message on
Whatsapp
criticising the state police. If convicted he could face up to three years of imprisonment.
Please act and demand
his immediate and conditional release and investigation into allegations of torture.