Miriam, human rights defender, 1947-2012


We have four actions this week, but they are all click to act cases:
Indigenous people in Peru are in severe danger because of development encroachment on their ancestral land.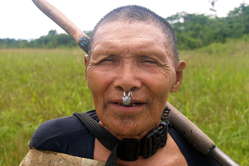 Recently-contacted Murunahua man, south-east Peru
© Chris Fagan/UAC/ProPurús
Please click and help them.
They are extremely vulnerable to diseases brought in by outsiders and could be wiped out completely as happened in the 19th and 20th centuries to many indigenous tribes throughout the hemisphere.
Survival International
is calling upon the Peruvian government to protect them.
Please sign an international petition to the Chinese government to release the
Nobel Peace Laureate Liu Xiaobo and his wife.
DEATH SENTENCE IN SAUDI ARABIA
Recently a young Sri Lankan woman named Rizana Nafeek was beheaded in Saudi Arabia. She was sentenced to death for the murder of a baby in her care when she was 17 -- a charge she denied after being beaten and forced to 'confess' to the crime.
Now another woman is on death row awaiting execution by beheading.
Siti Zainab Binti Duhri Rupa is a migrant worker from Indonesia, and a mother of two. Police suspect she was mentally ill when she 'confessed' to murdering her employer – but her confession was enough to seal her death sentence.
Help save Siti Zainab from execution © Documentation of CIMW
Please act to stop this execution.
The plight of immigrant domestic female workers is a major international scandal, part of the worldwide war on women that rages unrestrained.
US WORKERS IN STRUGGLE FOR BARGAINING RIGHTS
Despite a labor relations board decision in their favor, workers at a Nevada casino, partly owned by Deutsche Bank, are being denied their basic rights.
Please click and tell Deutsche Bank that this is not acceptable.