Miriam, human rights defender, 1947-2012






MAYDAY AND WORKPLACE SAFETY
Workers demonstrated all over the world, but the fiercest were in Bangladesh in the wake of the collapse of a factory building. Hundreds are know dead and the toll increases with time. Indeed the owner of the building is in custody, but the responsibility for the dangerous (and cheap) working conditions in Bangladesh lies with the supply chain, all the way to us, the buying public who are addicted to cheap clothing. Please join the
worldwide protest about workplace safety i
n Bangladesh.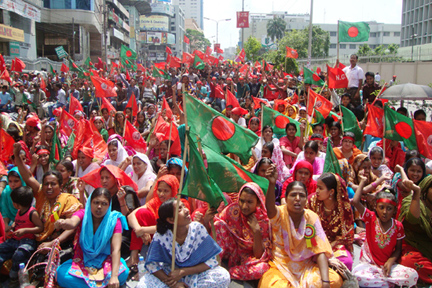 Garment workers demonstrating in Dhaka
GOOD NEWS
The US state of Maryland has joined the overwhelming global trend towards ending the death penalty, Amnesty International said today after Governor Martin O'Malley signed the abolition of capital punishment into law.
The abolition bill, passed by the state legislature in March 2013, makes Maryland the 18th US state to relinquish use of the death penalty since the US Supreme Court approved new capital laws in 1976.
Read more.
HUMAN RIGHTS DEFENDERS IN THE AMERICAS
Human rights defenders in the Americas play a vital role in exposing and combating human rights violations.
Many have paid a high price for their courageous efforts to break cycles of injustice, discrimination and impunity
.
Please sign this petition on their behalf.
Members of "Ladies in White," wives and mothers of political prisoners, demonstrate during the dissident group's weekly march after mass in Havana, Sunday July 11, 2010. © AP Photo/Javier Galeano