INDIGENOUS PEOPLE
Indigenous tribes do not simply die out. They are killed by the actions of so-called civilized nations.
Survival International
provides a long list of cases in which a letter from you can and will make a difference. Please open this link and write at least one letter. This link will be a permanent feature on our blog and we would be grateful if you gave it a bit of attention each week. We suggest going down the list in the order given. The letters are pre-written for you. All you need to do is send them. It would be nice also if a donation to Survival International could be forthcoming. This week we focus on the
Ayoreo-Totobiegosode
tribe in Paraguay. A prepared letter is available.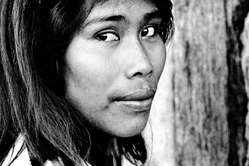 Ayoreo-Totobiegosode woman
© Luke Holland/Survival
FRANCE
We return to the issue of the Roma families who were evicted from their informal settlement near Bobigny, on the outskirts of Paris. The action left about 180 people homeless. Sixty are temporarily living in two social care centres in Paris after having slept several days in a gymnasium. The others were not given any temporary shelter. This is unconscionable, especially in an EU country such as France.
Please join the appeal and protest.
ECUADOR
Lesbian, Gay, Bisexual, Transgender and Intersex (LGBTI) rights defender Ms Diane Marie Rodríguez Zambrano is currently in hiding in a safe-house as a result of recent death threats against her. Diane Marie Rodríguez Zambrano is the founder and president of the Asociación Silueta X, a grassroots organisation working for the rights of LGBTI people in Ecuador, in particular young transgender and intersex persons, as well as HIV AIDS prevention.
Please join the call for her.
Photo Wikimiedia
-
BELARUS
Amnesty International is deeply concerned that death row prisoner Eduard Lykau is at imminent risk of execution in Belarus.
Please join the appeal
for commutation of the death sentence.