Miriam, human rights defender, 1947-2012




EMBASSY FINDER
Survival International provides a
useful tool
for locating the embassy of any country in your country.
http://embassy.goabroad.com/
MEXICO
Key eyewitnesses into the killings of two human rights defenders have been harassed in the Mexican state of Oaxaca. This is an apparent attempt to stop them from giving testimony in court. Their lives could be at risk.
Please act.
INDIGENOUS PEOPLE
Indigenous tribes do not simply die out. They are killed by the actions of so-called civilized nations. Survival International provides a long list of cases in which a letter from you can and will make a difference. Please open this link and write at least one letter. This link will be a permanent feature on our blog and we would be grateful if you gave it a bit of attention each week. We suggest going down the list in the order given. The letters are pre-written for you. All you need to do is send them. It would be nice also if a donation to Survival International could be forthcoming.
This week we focus on the the
Ogiek of Kenya.
They are hunter-gatherers – some in the deep forest live purely by hunting and gathering, while the majority grow vegetables and keep livestock also. They have traditionally hunted such animals as antelope and wild pigs, which is now generally illegal. Now they are in danger of eviction from their forest home. Please join the protest to the Kenyan government.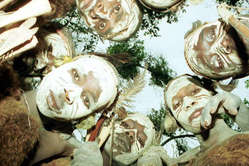 Ogiek ritual masks
PERU
Intimidation by the police--Máxima Acuña and her family, subsistence farmers in northern Peru, have reported further acts of intimidation and harassment by the police. They are in an ongoing legal dispute against a mining company over the ownership of a plot of land where the family lives. They believe this harassment and intimidation by the police is an attempt to drive them away.
Please protest for them.
DOMINICAN REPUBLIC
Four journalists have been harassed and received death threats in the Dominican Republic as the result of their advocacy for the respect of the rights of Dominicans of Haitian descent.
On 2 February, four Dominican journalists, Juan Bolívar Díaz, Huchi Lora, Amelia Deschamps and Roberto Cavada, known for taking a strong stand against discrimination towards Dominicans of Haitian descent, reported a number of threats and acts of harassment they have suffered as a result of their work.
Please protest to the Domincan authorities on their behalf.
ETHIOPIA AND MALDIVES
Worker abuse by Sheraton Hotel chain.

Recently, workers at Sheraton hotels in Ethiopia and Maldives sought to exercise a basic human right: negotiate through their unions their employment terms and conditions. They got Sheraton management's full service abuse treatment - brutal mass dismissals and intimidation.
Please click to register
your protest to Starwood, the owners of Sheraton.