Miriam, human rights defender, 1947-2012
HE WHO PERMITS OPPRESSION PERMITS CRIMES.-Erasmus
EMBASSY FINDER
Survival International provides a useful
tool
for locating the embassy of any country in your country.
http://embassy.goabroad.com/ You can also find
embassies at this link
. https://embassy-finder.com/
GOOD NEWS
United Kingdom
The strike at the National Gallery of Art in London
has ended with success
for the union and the reinstatement of the union leader. Thanks to all who participated in this campaign. Note that there are other campaigns mentioned in the announcement, please join them.
ECUADOR
Ecuadorian authorities
have abandoned their plans
to shut down freedom of expression organization Fundamedios. This is a welcome move which will allow Fundamedios to continue carrying out their legitimate human rights work. No further action is requested from the UA network. Many thanks to all those who took action.
CHARITY CORNER
In the wake of the closing of the Titan and Pollyanna blogs, we are continuing the charity corner here. In the wake of the closing of the Titan and Pollyanna blogs, we are continuing the charity corner here. This month as violence and counter-violence square off at one another we refer you to
Btzelem,
the The Israeli Information Center for Human Rights in the Occupied Territories. The site is
self-explanatory and we call on you to hit the donation tab.
INDIGENOUS PEOPLE
Indigenous tribes do not simply die out. They are killed by the actions of so-called civilized nations.
Survival International
provides a long list of cases in which a letter from you can and will make a difference. Please open this link and write at least one letter. This link will be a permanent feature on our blog and we would be grateful if you gave it a bit of attention each week. We suggest going down the list in the order given. The letters are pre-written for you. All you need to do is send them. It would be nice also if a donation to Survival International could be forthcoming.
This week we return to actions on behalf of specific tribes and peoples. We ask you to write to the President of the Philippines expressing your concern for the
Batak tribe of the Philippines
who are at risk from land loss. Government legislation banning their traditional farming methods has had a devastating impact. Survival's campaign helped to partially lift this ban but the Batak still face food shortages.
Apropos indigenous people, we note that
"Columbus Day,"
which commemorates the landing of Columbus on October 12, 1492,
is being replaced
by many cities and states in the US by
Indigenous People Day.
The arrival of Europeans in the Western Hemisphere brought in an
era of genocide and enslavement
and the sufferings of the native peoples should be remembered.
THE STRUGGLE AGAINST SLAVERY
We have added a new section to the blog in order to join the struggle against slavery worldwide. We refer you to the site of
Walk Free
where you can find a large number of campaigns against manifestations of slavery in different countries. The number of people living in slavery is of the order of 35 million, which indicates the extent of the problem. We suggest that you look up the
Fair Trade
movement in your country and make an effort to avoid buying slave-produced products. Look for this logo:
This week we call your attention to slavery at sea. Isolated at sea or on lakes, fishermen do not have access to the protections available in landside workplaces. Their isolation leaves them trapped, unable to escape for years at a time, whilst being forced to work. At worst, a disagreement with those in charge can result in summary execution and being thrown overboard.
Please act
on behalf of enslaved fishermen, as in the
ship shown here.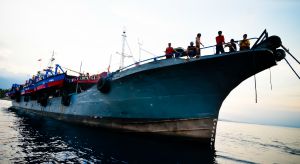 USA
Shooting in public places
just goes on and no one seems to have the will to stop it. Mike Lukovich predicts when it will happen.
SUDAN
Government forces in Sudan have committed war crimes in South Kordofan by attacking people, using indiscriminate weapons and denying people humanitarian assistance.
Please join the protest
against targeting of civilians in this civil war.
GUINEA
Several opposition figures in Guinea have been arbitrarily arrested ahead of the 11 October presidential elections. This includes union leader Jean Dougou Guilavogui and at least 35 other political opponents, who were arrested following a violent episode in Koundara, northern Guinea. Some of the detainees were not involved in the violence and actively called for peace.
Please call for their release.
MOROCCO
Dual Belgian-Moroccan national Ali Aarrass was beaten and verbally abused on 29 September at Salé II prison, near Rabat. He has been on hunger strike since 25 August. He is at risk of further ill-treatment.
Please call for his protection.
TURKEY
Two Palestinian refugees coming from Syria, Ali Fares and Mohammed Fares, and Syrian refugee Abdalsalam Sakal, have been detained in Turkey since 22 September and are facing deportation. If deported they are at risk of serious human rights violations.
Please call on the Turkish government
to halt these deportation.
INDIA
Global snack and beverage giant PepsiCo is violating the rights of a courageous group of workers in West Bengal, India who formed a trade union and were fired as a result.
Please tell Pepsico
to stop squeezing its workers.