Miriam, human rights defender, 1947-2012
HE WHO PERMITS OPPRESSION PERMITS CRIMES.-Erasmus (1466-1536)
Desiderius Erasmus in 1523 as depicted by Hans Holbein the Younger. The Greek and Latin words on the book translate to "The Herculean Labors of Erasmus of Rotterdam".
Survival International provides a useful
tool
for locating the embassy of any country in your country. http://embassy.goabroad.com/ You can also
find embassies
at https://embassy-finder.com/
CHARITY CORNER
This week your attention is drawn to
The Global Fund for Women.
From their statement:
"We want every woman and girl to realize the rights that are enshrined in the Universal Declaration of Human Rights. We also stand for other rights that are vital for women's equality. We stand for a woman's right to decide if and when she has children, and to have high-quality health care that means she won't die in pregnancy or during childbirth. We know female genital mutilation is a violation of girls' rights, and must be eliminated. And we stand for the right of every woman to live equally and free from discrimination, no matter her sexuality or identity."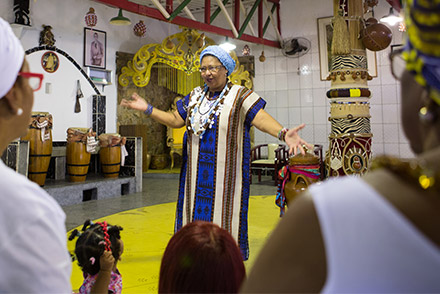 Nilce an advocate and mentor for Afro-Brazilian women
The fund is rated highly
by Charity Navigator. Please donate.
INDIGENOUS PEOPLE
Indigenous tribes do not simply die out. They are killed by the actions of so-called civilized nations.
Survival International
provides a long list of cases in which a letter from you can and will make a difference. Please open this link and write at least one letter. This link will be a permanent feature on our blog and we would be grateful if you gave it a bit of attention each week. We suggest going down the list in the order given. The letters are pre-written for you. All you need to do is send them. It would be nice also if a donation to Survival International could be forthcoming. We send you to the
campaign page
and urge you to choose a cause to support.
View this video.
THE STRUGGLE AGAINST SLAVERY
We have added this section to the blog in order to join the struggle against slavery worldwide. This week we refer you to the the
ILO's Protocol on Forced Labo
r which is all about modern slavery. We call your attention to the
anti slavery campaign.
There you can sign up for action updates.The importance of checking your sellers' supply chains cannot be overemphasized.
Look for these logos:
Blast it out and make it go viral. Find a campaign to work for. Light must be made to shine in the darkest of places.
Good News! - Democratic Republic of Congo (DRC): Vano Kiboko Released
Vano Kiboko, a former Member of Parliament who had been in detention since December 2014, was released from prison on 5 May after completing his sentence.
No further action is requested of the UA Network.
Many thanks to all who sent appeals
Philippines
Condemn Extrajudicial Executions
Hundreds of criminal suspects
allegedly linked to the drug trade have been killed since June 30, the day President Duterte took office in the Philippines. Some of these cases may amount to extrajudicial executions.
Please call for a stop to this pernicious practice.
Republic of Congo
Release Paulin Makaya
Congolese political opposition member
Paulin Makaya
was sentenced on 25 July to two years imprisonment and a fine of 3,800 Euros for taking part in an unauthorized protest. Paulin Makaya is a prisoner of conscience who should never have been arrested in the first place.
Please call for his release.
Egypt
Release Islam Khalil
Islam Khalil
, who was subjected to enforced disappearance for 122 days, has been tortured in detention and placed in solitary confinement after he spoke out against putting more detainees in his already overcrowded cell. He went on hunger strike in protest and his health has deteriorated since. He has been denied access to a doctor.
Please call for his immediate release.
Ecuador: Government threatens to shut down teachers' union
The teachers' union UNE of Ecuador (Unión Nacional de Educadores) is facing the threat of being shut down as the Ministry of Education has initiated proceedings for the union's legal dissolution.
If it comes up with my name, just replace the data with yours.