Miriam, human rights defender, 1947-2012


EMBASSY FINDER Survival International provides
a useful tool
for locating the embassy of any country in your country.
http://embassy.goabroad.com/
CHARITY CORNER
In the wake of the closing of the Titan and Pollyanna blogs, we are continuing the charity corner here. This week we target the illicit trade in wildlife and invite you to
contribute to the WildAid foundation.
The mission statement:
"WildAid's mission is to end the illegal wildlife trade in our lifetimes. We envision a world where people no longer buy wildlife products such as shark fin, elephant ivory and rhino horn."
While most wildlife conservation groups focus on protecting animals from poaching, WildAid works to reduce global consumption of wildlife products by persuading consumers and strengthening enforcement.
CHEERS FOR THE NIGERIAN PEOPLE WHO TOOK ON SHELL OIL AND WON
We are pleased to report
the payment of compensation to the victims of Shell's decades of pollution in Nigeria. The people of the Niger valley thank all people and organizations who participated in the campaign against Shell Oil.


INDIGENOUS PEOPLE
Indigenous tribes do not simply die out. They are killed by the actions of so-called civilized nations. Survival International provides a long list of cases in which a letter from you can and will make a difference. Please open this link and write at least one letter. This link will be a permanent feature on our blog and we would be grateful if you gave it a bit of attention each week. We suggest going down the list in the order given. The letters are pre-written for you. All you need to do is send them. It would be nice also if a donation to Survival International could be forthcoming.
This week we focus on the the Papuan people who live in the western half of the island of New Guinea which is under the rule of Indonesia and is distinct from the independent country of Papua New Guinea. The region is home to around 312 different tribes, including some uncontacted peoples. The central mountainous region of Papua is populated by the highland peoples, who practice pig husbandry and sweet potato cultivation.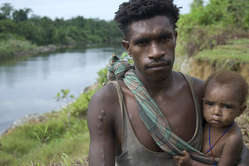 A Korowai man and child in West Papua
© Survival International
The lowland peoples live in swampy and malarial coastal regions, and live by hunting the abundant game, and gathering. They are subject to severe abuse from the Indonesian authorities.
Please act to protect their human rights
and their freedom to choose their way of life.
PARAGUAY
The life of a 10-year-old girl who is pregnant after having been raped by her stepfather is in danger. Despite the high risk this pregnancy poses and her mother's request, access to safe abortion has not been yet provided.
Please raise your voice for this poor child.
CHINA
Tibetan monk Choephel Dawa has not been heard from since he was detained by police on 28 March. It is not known where he is being held, or the charges against him, and he is at risk of torture and other ill-treatment.
Please act on his behalf.
ROMANIA
Eight Roma families, are at risk of forced eviction in Eforie, in south-east Romania by 30 April. The authorities must put in place key international human rights safeguards and ensure that no one is forcibly evicted.
Please write to the authorities involved.
MYANMAR/BURMA
Two union leaders, Naing Htay Lwin and Myo Min Min, were arrested in February 2015 for asking for a pay rise of $1 a day for garment workers.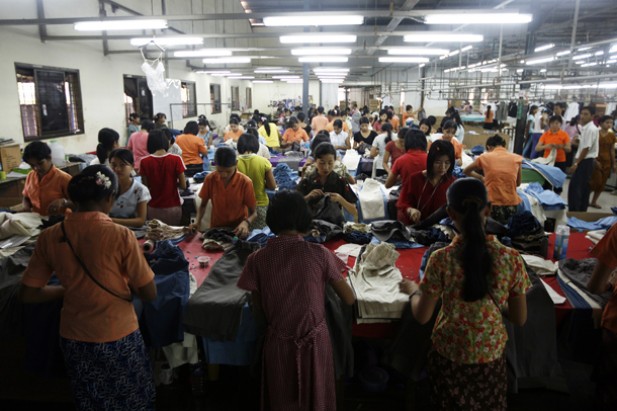 They have been detained in the notorious Insein Prison in Rangoon. If they are convicted, they could face up to 3 years in jail.
Please open the link and act.