Miriam, human rights defender, 1947-2012
SHANA TOVA We wish all our Jewish readers a Shana Tova, a happy New Year. The Hebrew Calendar New Year falls on Monday Sept. 14 and Tuesday Sept. 15.
HE WHO PERMITS OPPRESSION PERMITS CRIMES.-Erasmus
EMBASSY FINDER
Survival International provides a useful
tool
for locating the embassy of any country in your country.
http://embassy.goabroad.com/ You can also find
embassies at this link
. https://embassy-finder.com/
CHARITY CORNER
In the wake of the closing of the Titan and Pollyanna blogs, we are continuing the charity corner here. This week, we are overwhelmed by the refugee crisis in Syria and Europe. We recommend that you donate to help these unfortunate people
via Mercy Corps
who have a wonderful record of crisis help. Please donate.
INDIGENOUS PEOPLE
Indigenous tribes do not simply die out. They are killed by the actions of so-called civilized nations. Survival International provides a long list of cases in which a letter from you can and will make a difference. Please open this link and write at least one letter. This link will be a permanent feature on our blog and we would be grateful if you gave it a bit of attention each week. We suggest going down the list in the order given. The letters are pre-written for you. All you need to do is send them. It would be nice also if a donation to Survival International could be forthcoming.
This week we want to discuss an urgent case of an emerging community that requires protection. Brazil's Indian Affairs Department has announced that a highly vulnerable group of uncontacted Indians has emerged from the forest on the Peru-Brazil border and made first contact with a settled indigenous community, having fled from illegal logging in Peru. Uncontacted Indians in this region face imminent "tragedy" and "death", according to experts.
Contact could be disastrous for the Indians, as they lack immunity to common diseases spread by outsiders. They are some of the most vulnerable people on the planet and they depend entirely on their land for their survival.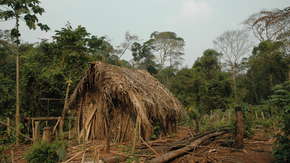 The 'Man of the Hole's' house and garden where he grows manioc and other vegetables, Brazil.
© J. Pessoa
Please write to the Peruvian and Brazilian governments
urging them to immediately implement measures to ensure the Indians' lands and lives are protected.
THE STRUGGLE AGAINST SLAVERY
She should not be in a brothel
Walk Free
where you can find a large number of campaigns against manifestations of slavery in different countries. The number of people living in slavery is of the order of 35 million, which indicates the extent of the problem. We suggest that you look up the Fair Trade movement in your country and make an effort to avoid buying slave-produced products. Look for this logo:
This week we focus on the exploitation of children for prostitution in Kenya.
Please call upon the government of Kenya
to declare zero tolerance of commercial sexual exploitation of children, backed by regular monitoring and law enforcement.
TURKEY
We call for solidarity
with human rights defender Kemal Ördek who was raped, robbed and assaulted in Ankara, Turkey and ask you join Turkish and international human rights organizations to demand an immediate, effective and impartial investigation into the attacks against Kemal.
Kemal Ördek is one of the founders of the Red Umbrella Sexual Health and Human Rights Association, an organization promoting and advocating for the rights of sex workers and documenting grave abuses in Turkey.
-
NIGERIA
Thousands are at risk of forcible eviction in Kaduna state in Nigeria, after receiving demolition notices giving them just 21 days to demolish their own houses. If they fail to do so, the state will carry out the demolitions and they will be liable for reimbursing the cost. Ninety-two houses have already been demolished, 267 more are at risk.
Please act.
UZBEKHISTAN
Muhammad Bekzhanov has spent the last 16 years in prison following an unfair trial which sentenced him on the basis of a confession he gave under torture. Muhammad Bekzhanov was beaten, suffocated, and given electric shocks. No effective investigation into any of these allegations of torture has ever been conducted.
Please join the protest.
MEXICO
In Mexico torture is out of control and victims are failed by a government that does not guarantee effective investigations. In most cases, forensic experts fail to document physical and mental signs of torture. When they do, they often reach unfounded conclusions which tend to rule out torture and stop any further investigation.
Please call for action
and for objective forensic medicine.
CHINA
Lawyer Zhang Kai has long been a staunch advocate for the Christian community on the mainland. Photo Simon Song
Persecution of Christians continues. A prominent human rights lawyer and his two assistants have been detained in China as part of a wider crackdown on activists who are resisting the
removal of crosses from churches.
Please speak up
for religious freedom and human rights.