Miriam, human rights defender, 1947-2012
HE WHO PERMITS OPPRESSION PERMITS CRIMES.-Erasmus
EMBASSY FINDER
Survival International provides a useful
tool
for locating the embassy of any country in your country.
http://embassy.goabroad.com/ You can also find
embassies at this link
. https://embassy-finder.com/
EGYPT: GOOD NEWS
An appeals court has upheld the acquittal of women's human rights defender Azza Soliman and 16 others who witnessed the killing of Egyptian activist Shaimaa Al-Sabbagh.
Read more.
CHARITY CORNER
In the wake of the closing of the Titan and Pollyanna blogs, we are continuing the charity corner here. This week, the we refer you to Rabbis for Human Rights. The head of the organization Rabbi Arik Ascherman was nearly murdered by a settler last week while protecting the Palestinian olive harvest.
Please read his description of the incident and make a generous donation to this worthy cause.
The attack on Rabbi Ascherman
INDIGENOUS PEOPLE
Indigenous tribes do not simply die out. They are killed by the actions of so-called civilized nations.
Survival International
provides a long list of cases in which a letter from you can and will make a difference. Please open this link and write at least one letter. This link will be a permanent feature on our blog and we would be grateful if you gave it a bit of attention each week. We suggest going down the list in the order given. The letters are pre-written for you. All you need to do is send them. It would be nice also if a donation to Survival International could be forthcoming.
This week we call on you to help the
Nukak tribe of Colombia
. Over half the members of the tribe have died since contact in the 1990's. They have been granted a reserve, but it is not respected by coca growers who supply the cocaine trade. Campaigning for the Nukak's rights has already made a huge difference. After campaigns led by Survival and local indigenous organisations, the Colombian government created a Nukak reserve in 1993 and enlarged it in 1997.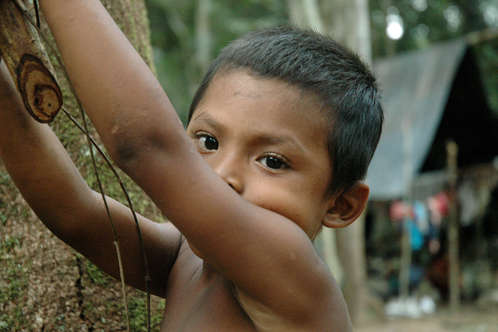 Nukak boy in Colombia
What the Nukak want now is for the boundaries of their reserve to be respected and for them to be able to live there in peace.Please open the link and act on their behalf.
THE STRUGGLE AGAINST SLAVERY
We have added a new section to the blog in order to join the struggle against slavery worldwide. We refer you to the
site of Walk Free
where you can find a large number of campaigns against manifestations of slavery in different countries. The number of people living in slavery is of the order of 35 million, which indicates the extent of the problem. We suggest that you look up the
Fair Trade movement in your country and make an effort to avoid buying slave-produced produc
ts. Look for this logo:
This week we call your attention to
child slavery
. Please open this link and act on one or more of the cases provided. Estimates suggest a quarter of those in slavery are children. Among other abuses, these children are sexually exploited, forced to work, and even made to participate in armed conflict. All children deserve protection and the right to a childhood. Take action now to help end child slavery.
MYANMAR
The return to democracy in Myanmar appears to be a fraud. On Sunday 8th November the people of Burma go to the polls in what has been billed as a landmark election. Aung San Suu Kyi's National League for Democracy is expected to win and so could form the next government.
Does this mean democracy has finally come to Burma? Should we be celebrating? Sadly not. As you might expect with the Burmese military, all is not as it seems.
Burma Campaign UK has published a
detailed briefing paper
with everything you need to know about the election. Here is an example of what we may expect to continue: After almost eight months in hiding, prominent student unionist Kyaw Ko Ko has been detained for his role in organizing student protests in Myanmar. He is a prisoner of conscience who must be immediately and unconditionally released.
Please act.
MOROCCO
This is a second UA on Ali Aarrass, who is on hunger strike. Ali Aarrass was admitted to hospital on 27 October, two weeks after prison medical staff first recommended this. He is now back in Salé II prison, near Rabat, and is still in poor health.
Please act.
This may not be possible from Israel.
ECUADOR
On October 20, 2015, members of the Frente de Mujeres Defensoras de la Pachamama (FMDP, Coalition of Women Human Rights Defenders of Pachamama), an organization of rural women defending mother earth and human rights, along with Lina Solano, president of the Latin American Women's Union (ULAM), were physically and verbally assaulted and arbitrarily detained by dozens of police and government security agents.
Please act.
INDIA
Dalit folk singer and activist S Sivadas, popularly known by his stage name Kovan, was arrested on 30 October over two satirical songs which criticize the Tamil Nadu state government and chief minister.
Kovan faces charges including sedition, provocation with intent to cause a riot and public mischief. If convicted, he could face a maximum sentence of life imprisonment.
Please act and explain to the government in India that suppression of freedom of expression is not consistent with claiming to the be world's largest democracy.