Miriam, human rights defender, 1947-2012
HE WHO PERMITS OPPRESSION PERMITS CRIMES.-Erasmus (1466-1536)
Desiderius Erasmus in 1523 as depicted by Hans Holbein the Younger. The Greek and Latin words on the book translate to "The Herculean Labors of Erasmus of Rotterdam".
GOOD NEWS Good news to share!
GOOD NEWS FROM HONDURAS
In a major win for Indigenous and Afro-descendent peoples in Honduras, the Inter-American Court of Human Rights issued a judgment in January declaring the State of Honduras responsible for the violation of collective ownership rights and the lack of judicial protection. The case was brought by OFRANEH, the Black Fraternal Organization of Honduras which has been working for years to defend the territory of the Indigenous Garifuna peoples and a partner of a broad coalition of Indigenous and campesino rights organizations across Honduras.
Read more...
Photo by Felipe Canova. Forum on Land grabbing in Latin America, La Ceiba, 2011.
EMBASSY FINDER
Survival International provides a useful
tool
for locating the embassy of any country in your country.
http://embassy.goabroad.com/ You can also find
embassies at this link
. https://embassy-finder.com/
CHARITY CORNER
In the wake of the closing of the Titan and Pollyanna blogs, we are continuing the charity corner here. This week, the we refer you to
Btzelem, an NGO that monitors human rights
in Israel, the Occupied Territories and the Palestinian Authority. B'Tselem has championed human rights in the West Bank and Gaza Strip for over two decades, promoting a future where all Israelis and Palestinians will live in freedom and dignity. We suggest you open the site, read of the human rights violations and make a generous donation to support this worthy cause.
GENERAL OUTRAGE
We append links to Avaaz petitions and ask you to sign. One is a call to the
UN to increase its efforts
on behalf of the starving population of Madaya in Syria.
The other is a call to
Yahoo to stop the online trading in ivory.
MOURNING HUMAN RIGHTS JOURNALISTS
It is with great sadness that we join
Amnesty International in mourning
the tragic deaths of photographer Leila Alaoui and driver Mahamadi Ouédraogo, as a result of the Al Qaeda attack in Ouagadougou, Burkina Faso, on Friday. They were there on assignment from Amnesty and died in the service of human rights. We join Amnesty International in condemnation of the vicious attack on civilians in Ouagadougou, that killed and injured dozens of people of many nationalities and faiths.
DEATH PENALTY CASES
USA
Michael Lambrix has been denied clemency and his execution set for 11 February. Twenty-three years old when he was sent to Florida's death row in 1984, he is now almost 56. He maintains that he acted in self-defense during the crime in question.
Please act.
SAUDI ARABIA
Ashraf Fayadh, a Palestinian poet and artist who lives in Saudi Arabia, has been sentenced to death for 'apostasy'. The Saudi Arabian authorities claim that his poetry has questioned religion and spread atheism. Ashraf has committed no crime. He is a prisoner of conscience.
Ask the Saudi Arabian authorities to free him now.
INDIGENOUS PEOPLE
Indigenous tribes do not simply die out. They are killed by the actions of so-called civilized nations.
Survival International
provides a long list of cases in which a letter from you can and will make a difference. Please open this link and write at least one letter. This link will be a permanent feature on our blog and we would be grateful if you gave it a bit of attention each week. We suggest going down the list in the order given. The letters are pre-written for you. All you need to do is send them. It would be nice also if a donation to Survival International could be forthcoming. This week we ask you to send a letter to the president of Peru asking him to halt the expansion of the Camisea gas fields into the
territory of the Nahua people
whose lives would be endangered by this contact with the gas field workers.
THE STRUGGLE AGAINST SLAVERY
We have added a new section to the blog in order to join the struggle against slavery worldwide. This week we refer you to the site of the
CNN Freedom Project
where you can find a large number of campaigns against
manifestations of slavery
in different countries. The number of people living in slavery is of the order of 35 million, which indicates the extent of the problem. We suggest that you look up the Fair Trade movement in your country and make an effort to avoid buying slave-produced products. Look for this logo:
This week we return to the issue of
cotton harvest slavery in Uzbekistan
. You may not be aware of the fact that the Daewoo corporation is a major purchaser of slave-grown cotton from Uzbekistan. Please call on Daewoo to stop profiting from Uzbek cotton slavery by signing the pre-written letter.
ISRAEL
A 23-year-old Palestinian man, Mohammad Faisal Abu Sakha, has been detained by the Israeli military, without charge or any explanation, since 14 December. He has not been allowed visits from his family.
Please demand his release.
CHINA
A Swedish national working for a China based NGO has been detained in Beijing since 3 January on charges of "endangering state security". The Chinese authorities have not allowed consular visits, and he has a health condition that requires urgent medical treatment.
Please act on his behalf.
MYANMAR
Phyoe Phyoe Aung was arrested after organizing a largely peaceful protest in Myanmar, during which police attacked students with batons.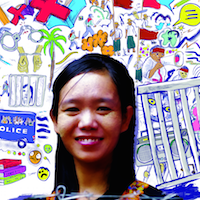 She and scores of others now face lengthy jail terms. To prove that it has left its brutal past behind, the Myanmar government must release these Prisoners of Conscience now.
Please act.
NEW ZEALAND
Two hundred workers at AFFCO, the New Zealand meat company owned by the anti-union Talley family, have been locked out since June last year for resisting the company's brutal push to replace negotiated collective agreements with individual contracts. Talleys/AFFCO is also punishing union members and workplace representatives with suspensions and dismissals.
SEND A MESSAGE TO TALLEYS/AFFCO!