Miriam, human rights defender, 1947-2012


HE WHO PERMITS OPPRESSION PERMITS CRIMES.-Erasmus (1466-1536)
Desiderius Erasmus in 1523 as depicted by Hans Holbein the Younger. The Greek and Latin words on the book translate to "The Herculean Labors of Erasmus of Rotterdam".
EMBASSY FINDER
Survival International provides a
useful tool
for locating the embassy of any country in your country.
http://embassy.goabroad.com/ You can a
lso find embassies
at https://embassy-finder.com/
GOOD NEWS
PHILIPPINES
As a direct result of Global Housekeeping Campaign activities in the Philippines, the IUF-affiliated NUWHRAIN won a government administrative order for the inspection of hotels for non-compliance with national labor and health and safety regulations. Cheers for the union activists who won this victory against abuse of housekeeping workers.
CHARITY CORNER
In the wake of the closing of the Titan and Pollyanna blogs, we are continuing the charity corner here. This week we refer you to the
Global Fund for Women
. They define their focus issues thus:
Global Fund for Women will continue to focus on three global themes critical to women's rights:
1.
Freedom from Violence
2.
Sexual and Reproductive Health and Rights, and
3.
Economic and Political Equality. We will campaign on these themes and make grants to grass-roots women's groups who work on them. In the next five years, we will also initiate projects, grants, and campaigns on important issues that cut across these themes: the rise of fundamentalisms and their regressive impact on women's rights; the safety, security, and sustainability of women's human rights defenders; and the intersection of technology and women's rights.
They are
rated highly by Charity Watch
and deserve your support.
INDIGENOUS PEOPLE
Indigenous tribes do not simply die out. They are killed by the actions of so-called civilized nations.
Survival International
provides a long list of cases in which a letter from you can and will make a difference. Please open this link and write at least one letter. This link will be a permanent feature on our blog and we would be grateful if you gave it a bit of attention each week. We suggest going down the list in the order given. The letters are pre-written for you. All you need to do is send them. It would be nice also if a donation to Survival International could be forthcoming. This week we call your attention to something that takes us by surprise. We tend to think of conservation organizations such as the World Wildlife Foundation as good guys who help species survive. We now find that Survival International has
launched a formal complaint about the activities of the World Wide Fund for Nature (WWF) in Cameroon.
This is the first time a conservation organization has been the subject of a complaint to the OECD (Organization for Economic Cooperation and Development), using a procedure more normally invoked against multinational corporations.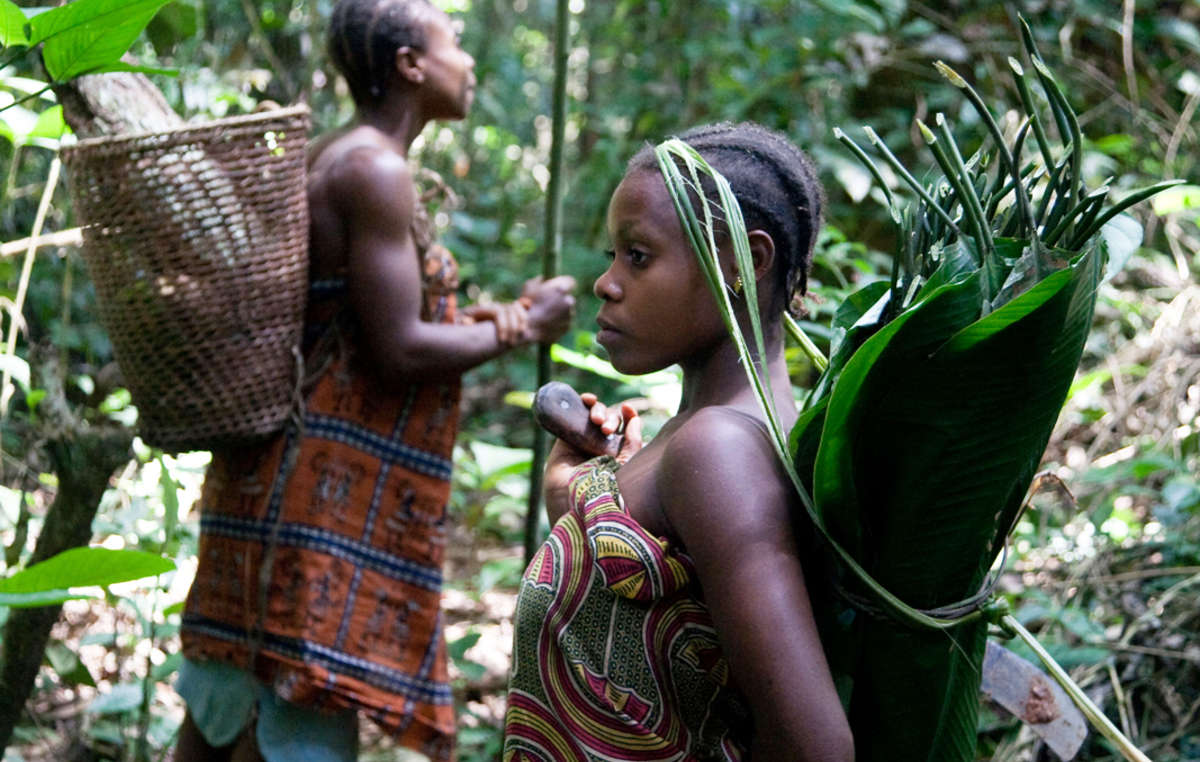 © Selcen Kucukustel/Atlas
The complaint charges WWF with involvement in violent abuse and land theft against Baka "Pygmies" in Cameroon, carried out by anti-poaching squads which it in part funds and equips.
Please join in calling for the WWF to stop abusing the indigenous people.
THE STRUGGLE AGAINST SLAVERY
We have added a new section to the blog in order to join the struggle against slavery worldwide. This week we refer you to the site of the
CNN Freedom Project
where you can find a large number of campaigns against
manifestations of slavery in different countries.
The number of people living in slavery is of the order of 35 million, which indicates the extent of the problem. We suggest that you look up the
Fair Trade
movement in your country and make an effort to avoid buying slave-produced products. Look for these logos:
This week we refer you to the
how-to-take-action page
of the Free The Slaves Movement. There you will find options for action to suit you. Certainly alerting elected officials in every country is important and you should check out the
chain of supply when shopping
. You might find surprises.
CHINA
We return to China with more information on the crackdown on labor rights in Guangdong. Two Chinese labour activists have been released, but three remain in detention, solely as a result of their legitimate activities defending workers' rights in Guangdong province, south-east China.
Zeng Feiyang
These releases suggest that the attention on their situation may be having an influence, but more appeals are needed for those still behind bars.
Please act.
INDIA
A group of Indian women who were subjected to female genital mutilation (FGM) as children are calling on the government to ban the ancient ritual, describing it as child abuse.
Please blast this terrible story on all your social networks.
SOUTH SUDAN
Joseph Bangasi Bakosoro, former governor of Western Equatoria state in South Sudan, was detained by the National Security Service (NSS) on 22 December 2015. Family members have been denied access to him on multiple occasions and he is at risk of torture or other ill-treatment.
Please act on his behalf.
RUSSIAN FEDERATION
Performance artist Pyotr Pavlensky was charged with vandalism for setting fire to the main doors of the headquarters of the Federal Security Service on 9 November. He is currently detained in a psychiatric hospital in Moscow and is being denied access to his lawyer and the outside world. His wife fears for his health.
Please write for him.
SPAIN
Alfonso Lázaro de la Fuente and Raúl García Pérez were arrested by police on 5 February after performing a puppet show in a public event in Madrid. They were released on 10 February but are facing charges that include "glorifying terrorism". If found guilty they could spend up to four years in prison.
Please call for the charges to be dropped
and for protection of the right of free expression in Spain. This is particularly bad to find in an EU country.