Miriam, human rights defender, 1947-2012
Disclaimer: Any ads or commercial material appearing with this blog has been placed there without permission of the

owner of the blog. Please ignore them.
HE WHO PERMITS OPPRESSION PERMITS CRIMES.-Erasmus (1466-1536)
Desiderius Erasmus in 1523 as depicted by Hans Holbein the Younger. The Greek and Latin words on the book translate to "The Herculean Labors of Erasmus of Rotterdam".
Survival International provides a useful
tool
for locating the embassy of any country in your country. http://embassy.goabroad.com/ You can also
find embassies
at https://embassy-finder.com/
CHARITY CORNER
The news from Syria is heart-rending. Syrian families are facing impossible choices as they try to survive intensifying violence. There are risks at every turn, and parents worry whether they will see their children for another day. The circumstances are unimaginable.
These families can't wait -- and we need your help to rush food and essential supplies to them and so many other families in crisis. P
lease donate to the Mercy Corps
who are on hand in Syria and doing what can be done to help these poor people who are being driven from their homes, gunned down by fanatics and struggling to survive.
No choice but to flee
The insurgents had surrounded her village. Armed fighters were rushing toward them, filling the air with bullets and killing indiscriminately. Nearby homes went up in flames with families still inside them.
Adama had to make a split-second decision: Stay and pray the violence spared her family, or take her nine children and run. She fled, but for those trying to escape Aleppo that option is even more dangerous.
INDIGENOUS PEOPLE
Indigenous tribes do not simply die out. They are killed by the actions of so-called civilized nations.
Survival International
provides a long list of cases in which a letter from you can and will make a difference. Please open this link and write at least one letter. This link will be a permanent feature on our blog and we would be grateful if you gave it a bit of attention each week. We suggest going down the list in the order given. The letters are pre-written for you. All you need to do is send them. It would be nice also if a donation to Survival International could be forthcoming.
This week we raise the issue of :
Uncontacted tribes
Uncontacted tribes
are the most vulnerable peoples on the planet. We know very little about them. But we do know there are more than a hundred around the world.
All uncontacted tribal peoples face catastrophe unless their land is protected. We're doing everything we can to secure their land for them, and to give them the chance to determine their own futures.
Please donate to help them.
THE STRUGGLE AGAINST SLAVERY
We have added this section to the blog in order to join the struggle against slavery worldwide. This week we refer you to the the
ILO's Protocol on Forced Labo
r which is all about modern slavery. We call your attention to the
anti slavery campaign.
There you can sign up for action updates.The importance of checking your sellers' supply chains cannot be overemphasized.
Look for these logos:
Find a campaign to work for. Light must be made to shine in the darkest of places.
WRITE FOR RIGHTS
This is the time of year to take action on human rights in a big way.
Amnesty International offers its
Write for Rights program.
Write like someone's life depends on it. Sometimes a letter can change someone's life. That's the premise of Write for Rights, Amnesty's global letter-writing campaign. Today, it's one of the world's biggest human rights events.
Every December, Amnesty supporters across the globe will write millions of letters for those whose basic human rights are being attacked. They are people like you, continuing a long tradition of writing letters to right some of the world's biggest wrongs.
And it's not just letters – it could be petitions, emails, Tweets, Facebook posts, photos, postcards. Your words really can change lives. Join us.
Here is a good example of what is needed.
GOOD NEWS
MALTA LEADS THE WAY
Malta has become the first country in
Europe
to
ban gay conversion therapy
after the parliament in Valetta unanimously approved a bill outlawing attempts to "cure" homosexuals of their sexuality.
Under the new Affirmation of Sexual Orientation, Gender Identity and Gender Expression Act, anyone found guilty of trying to "change, repress or eliminate a person's sexual orientation, gender identity and/or gender expression" will face fines or a jail sentence.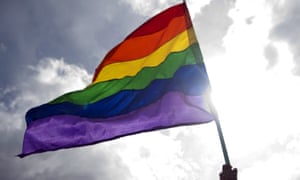 The new law states that 'no sexual orientation, gender identity or gender expression constitutes a disorder, disease or shortcoming of any sort'. Photograph: Raul Arboleda/AFP/Getty Images
USA
Urgent Action: Demand Clemency For Leonard Peltier
Native American activist Leonard Peltier has been imprisoned in the USA for over 40 years despite concerns over the fairness of his trial.
President Obama must grant him clemency before he leaves office.
Please act for him.
Myanmar
Urgent Action: Health Concern For Prisoner Of Conscience
Aung Win Hlaing, a member of the National Democratic Force party in Myanmar, has been sentenced to nine months in prison for a Facebook post critical of the President. He is a prisoner of conscience who must be immediately and unconditionally released.
Please raise your voice for him.
Egypt
Urgent Action Update: Worrying Escalation In The Crackdown On NGOs

A spurious investigation into Egyptian human rights organizations has escalated. On 7 December, prominent women's rights defender and lawyer Azza Soliman was arrested and charged.

On 12 December, a court hearing is expected to decide on the freezing of her assets. Separately, a new draconian NGO bill is awaiting the President's signature.

Please protest these actions.
Azerbaijan
Urgent Action Update: Activist Sentenced To 10 Years For Graffiti Protest
Azerbaijani youth activist Bayram Mammadov was sentenced to 10 years in prison on 8 December for a graffiti protest. Fellow activist Giyas Ibrahimov was also sentenced to 10 years in prison on 25 October. They are prisoners of conscience and should be released immediately.
Please demand their immediate release.