Miriam, human rights defender, 1947-2012
HE WHO PERMITS OPPRESSION PERMITS CRIMES.-Erasmus (1466-1536)
Desiderius Erasmus in 1523 as depicted by Hans Holbein the Younger. The Greek and Latin words on the book translate to "The Herculean Labours of Erasmus of Rotterdam".
EMBASSY FINDER
Survival International provides a useful
tool
for locating the embassy of any country in your country.
http://embassy.goabroad.com/ You can also find
embassies at this link
. https://embassy-finder.com/
GOOD NEWS
The Supreme Court of Israel has allowed a class action suit against a haredi radio station that refuses to allow women's voices to be heard. The suit was filed by
Kolech
, a religious women's organization.
Cheers, read all about it.
WRITE FOR RIGHTS
In December, in connection with World Human Rights Day, December 10, Amnesty International sponsors this campaign of letter writing for human rights. You are invited to join in.
Here are 12 egregious cases
of gross violations of the human rights of individuals around the world.
Do as many as you can. You can also find more cases on Twitter at the hashtag
#Write4Rights
posted by
Ai Wei Wei.
CHARITY CORNER
In the wake of the closing of the Titan and Pollyanna blogs, we are continuing the charity corner here. This week, the we refer you to PAI (
imPassioned Advocates for gIrls and women
), a global organization advancing the right to affordable, quality contraception and reproductive health care for every woman, everywhere. Their mission of advocacy:
"PAI champions policies that put women in charge of their reproductive health. We work with policymakers in Washington and our network of partners in developing countries to remove roadblocks between women and the services and supplies they need. For 50 years, we have helped women succeed by upholding their basic rights."
PAI has received top ratings from both the American Institute for Philanthropy and from Charity Navigator. More than 80 cents of every dollar PAI spends goes to critical program services. For more information about PAI, read our annual report or our 990 form. This is a most worthy cause. Please donate.
INDIGENOUS PEOPLE
Indigenous tribes do not simply die out. They are killed by the actions of so-called civilized nations.
Survival International
provides a long list of cases in which a letter from you can and will make a difference. Please open this link and write at least one letter. This link will be a permanent feature on our blog and we would be grateful if you gave it a bit of attention each week. We suggest going down the list in the order given. The letters are pre-written for you. All you need to do is send them. It would be nice also if a donation to Survival International could be forthcoming.
This week we call on you to help the the
Enawene Nawe,
who live in an area of tropical forest in western Brazil. The state government has announced it will build a vast complex of hydroelectric dams upriver of the Enawene Nawe's land. The Indians oppose the dams because they will pollute the water and destroy the fish which are an essential part of their diet. Please act now.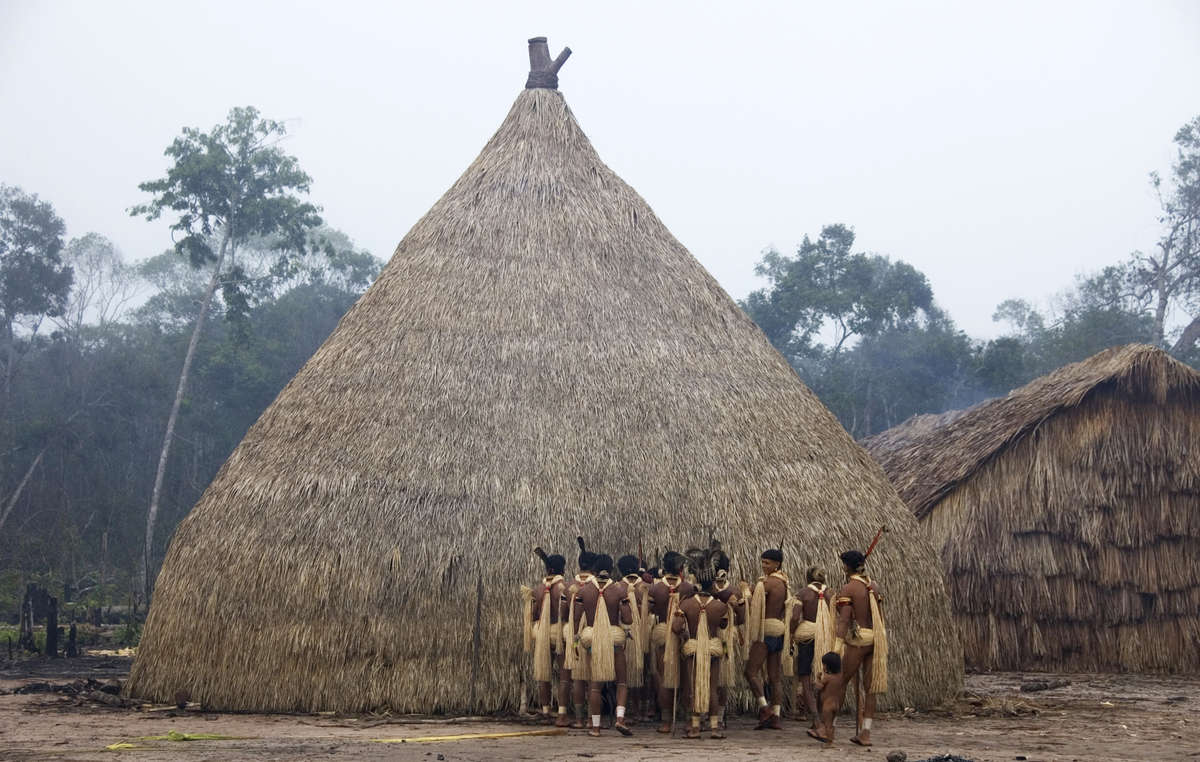 © Fiona Watson/Survival
THE STRUGGLE AGAINST SLAVERY
We have added a new section to the blog in order to join the struggle against slavery worldwide. We refer you to the site of
Walk Free
where you can find a large number of campaigns against manifestations of slavery in different countries. The number of people living in slavery is of the order of 35 million, which indicates the extent of the problem. We suggest that you look up the Fair Trade movement in your country and make an effort to avoid buying slave-produced products. Look for this logo:
This week we call upon you to support
Slave Free Seas,
an NGO dedicated to putting a stop to slavery on board ships at sea. Slave Free Seas is a team of the world's foremost legal experts on human trafficking at sea. Slave Free Seas has the expertise and global legal resources to implement jurisdiction-specific strategies to identify tainted supply chains; promote accountability and ensure that victims are provided remedies for the harms committed against them. Slave Free Seas (SFS) is a charitable trust based in New Zealand.
The mission:
"To fight the business of modern slavery on the seas"
SFS is the only NGO in the world
with a specific focus on ending human trafficking at sea.
ECUADOR
Twenty-one people among those detained during anti-government protests in Quito, the capital of Ecuador, have been sentenced following concerns of violations of their right to a fair trial. Amnesty International received reports during the protests of excessive use of force and clashes between the security forces and protesters, as well as arbitrary detention.
Please act for them.
VIETNAM
Prisoner of conscience Tran Thi Thuy, currently serving an eight year sentence in Viet Nam, is being denied medical treatment for a tumor on her uterus in circumstances that could amount to torture. Although diagnosed by a prison doctor and despite being in severe pain, she has been told she will receive no treatment unless she "confesses" to the crimes for which she was convicted. Please raise your voice to protest this atrocity and demand her immediate and unconditional release.
JORDAN
The Jordanian government is refusing to let 12,000 Syrian refugees enter the country, including pregnant women, children and elderly people. They are now stranded in a remote desert area on the Jordan-Syria border.
Please call for their admission to Jordan
in light of the principle of
non-refoulement.
CHINA
Zeng Feiyang
Last we we alerted you to the crackdown on labor activists in China. We now call your attention to a petition by the Hong Kong Confederation of Trade Unions Globalization Monitor.
Please open the link and sign.