Miriam, human rights defender, 1947-2012
HE WHO PERMITS OPPRESSION PERMITS CRIMES.-Erasmus (1466-1536)
Desiderius Erasmus in 1523 as depicted by Hans Holbein the Younger. The Greek and Latin words on the book translate to "The Herculean Labours of Erasmus of Rotterdam".
EMBASSY FINDER
Survival International provides a useful
tool
for locating the embassy of any country in your country.
http://embassy.goabroad.com/ You can also find
embassies at this link
. https://embassy-finder.com/
WRITE FOR RIGHTS
In connection with World Human Rights Day, December 10, Amnesty International sponsors an annual campaign of letter writing for human rights. You are invited to join in. Here is a case for write for rights.
Teodora del Carmen Vasquez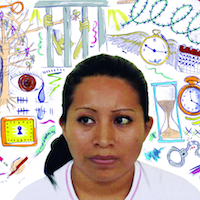 Jailed for 30 Years After Suffering a Still-Birth
Teodora suffered a still-birth in 2007, after the rapid onset of serious pain while she was at work. Police in El Salvador arrested her as she lay in a pool of blood. She was later sentenced to 30 years for 'aggravated homicide', presumed guilty of 'abortion' rather than the victim of pregnancy complications.
Please act for her.
CHARITY CORNER
In the wake of the closing of the Titan and Pollyanna blogs, we are continuing the charity corner here. This week, the
we refer you to Orr Shalom
. Orr Shalom is Israel's largest non-profit organization providing residential and therapeutic services to children who have been removed from their homes because of severe abuse and neglect.
Donations are tax deductible in the U.S. (501c3) and Israel (sec. 46) It is highly rated by the Israel Gives monitor. Please donate, yesterday was giving Tuesday.
INDIGENOUS PEOPLE
Indigenous tribes do not simply die out. They are killed by the actions of so-called civilized nations.
Survival International
provides a long list of cases in which a letter from you can and will make a difference. Please open this link and write at least one letter. This link will be a permanent feature on our blog and we would be grateful if you gave it a bit of attention each week. We suggest going down the list in the order given. The letters are pre-written for you. All you need to do is send them. It would be nice also if a donation to Survival International could be forthcoming.
This week we call on you to help the
Zoe tribe of Brazil.
They have lived in the forest from time immemorial, but contact with white missionaries decimated their numbers. They are curious about the outside world, but are vulnerable to diseases that whites bring to them. The challenge is to enable and help the Zo'é to understand and interact equally with the outside world, without compromising their health or land. Please write as requested in the site to the Brazilian Justice Minister asking for protection of the Zoe people.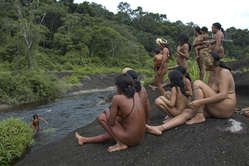 THE STRUGGLE AGAINST SLAVERY
We have added a new section to the blog in order to join the struggle against slavery worldwide. We refer you to the site of
Walk Free
where you can find a large number of campaigns against manifestations of slavery in different countries. The number of people living in slavery is of the order of 35 million, which indicates the extent of the problem. We suggest that you look up the
Fair Trade
movement in your country and make an effort to avoid buying slave-produced products. Look for this logo:
This week we call upon you to demand that
FIFA and the world football community do something
about the enslavement of the workers who are building the facilities in Qatar. Migrant workers in Qatar are living, working and dying in modern slavery to bring the world the 2022 World Cup. FIFA must use its influence over Qatar to improve the working conditions for these workers.Squalid, overcrowded accommodation. Brutally long days working in the blistering heat. Regular abuses of rights such as having passports withheld or being lied to about the nature of promised work. Please click and join the protest.
BURKINA FASO
In (belated) honor of the recent day against violence against women, November 25, we profile the
courageous girls who are standing up to forced marriage
in Burkina Faso. Please click is support of these girls who need all the help they can possible obtain.
COLOMBIA
Two human rights defenders are in danger after receiving death threats, apparently from paramilitaries, in Colombia's Pacific Coast city of Buenaventura, Department of Valle del Cauca.
Please act for them.
CHINA
On 27 November 2015, human rights defender Mr
Guo Feixiong
was sentenced to six years in prison by the Tianhe District People's Court in Guangzhou.
Two other human rights defenders, Messrs
Liu Yuandong
and
Sun Desheng
, received three and two and a half year sentences respectively.
Please take action.
DOMINICAN REPUBLIC
Tens of thousands of people remain stateless in the Dominican Republic. They have no country. They have no rights.
Please act to put an end to this intolerable situation.
SOUTH KOREA
The South Korean government has declared war on the country's trade unions.
Please join the protest.
MYANMAR
Workers at the Bagan Hotel River View
in Myanmar (Burma) are determined to defend their union in the face of management hostility and government ineffectiveness in enforcing basic trade union rights. Please click to support them.