Miriam, human rights defender, 1947-2012


HE WHO PERMITS OPPRESSION PERMITS CRIMES.-Erasmus (1466-1536)
Desiderius Erasmus in 1523 as depicted by Hans Holbein the Younger. The Greek and Latin words on the book translate to "The Herculean Labors of Erasmus of Rotterdam".
EMBASSY FINDER
Survival International provides a
useful tool
for locating the embassy of any country in your country.
http://embassy.goabroad.com/ You can a
lso find embassies
at https://embassy-finder.com/
CHARITY CORNER
In the wake of the closing of the Titan and Pollyanna blogs, we are continuing the charity corner here. This week we, in the wake of the takeover by force of a newspaper in Turkey, to
Reporters Without Borders,
who protect press freedom worldwide.
INTERNATIONAL WOMENS' DAY
March 8 was International Womens' Day, The glacial rate of progress towards true parity has slowed in the past year. So how do we want to celebrate International Women's Day 2016?
We say by Pledging For Parity!
Please click here and take the pledge.
Everyone - men and women - can pledge to take a concrete step to help achieve gender parity more quickly - whether to help women and girls achieve their ambitions, call for gender-balanced leadership, respect and value difference, develop more inclusive and flexible cultures or root out workplace bias. Each of us can be a leader within our own spheres of influence and commit to take pragmatic action to accelerate gender parity.
INDIGENOUS PEOPLE
Indigenous tribes do not simply die out. They are killed by the actions of so-called civilized nations.
Survival International
provides a long list of cases in which a letter from you can and will make a difference. Please open this link and write at least one letter. This link will be a permanent feature on our blog and we would be grateful if you gave it a bit of attention each week. We suggest going down the list in the order given. The letters are pre-written for you. All you need to do is send them. It would be nice also if a donation to Survival International could be forthcoming. This week we call your attention to the the
Sentinelese, an uncontacted tribe
living on North Sentinel Island, one of the Andaman Islands in the Indian Ocean. They vigorously reject all contact with outsiders.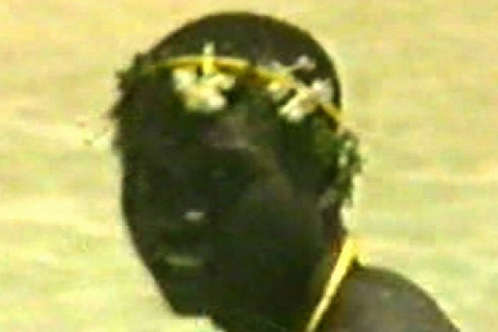 The Sentinelese enjoy excellent health, unlike those Andamans tribes whose lands have been destroyed.
© Survival International
It is vital that their wish to remain uncontacted be respected – if not, the entire tribe could be wiped out by diseases to which they have no immunity. Contact imposed upon other Andaman tribes has had a devastating impact. Please act to support the effort to protect them.
THE STRUGGLE AGAINST SLAVERY
We have added a new section to the blog in order to join the struggle against slavery worldwide. This week we refer you to the site of the CNN Freedom Project where you can find a large number of campaigns against manifestations of slavery in different countries. The number of people living in slavery is of the order of 35 million, which indicates the extent of the problem. We suggest that you look up the Fair Trade movement in your country and make an effort to avoid buying slave-produced products. Look for these logos:



This week we refer you to the the state of people in various states of abuse and enslavement in Thailand.
The site NotForSale
provides vivid descriptions of the trafficking and exploitation of stateless people. Thailand is a ranked as one of the worst countries in the world for human trafficking. Conservative estimates place the number of victims forced into labor or exploited in the sex trade in the tens of thousands. Migrant workers, ethnic minorities and stateless children are the most at-risk populations of trafficking. Internationally recognized as a sex tourism destination, Thailand is often more visibly associated with sex trafficking. However, labor trafficking is also rampant in the country with a large portion of victims operating in commercial fishing, low-end garment production and domestic work.
Save them from slavery
Please put this information out to the world on all your social media.
HONDURAS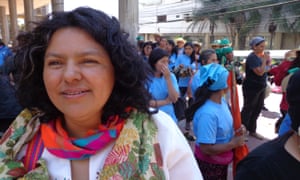 Berta Cáceres was realistic about the risks she faced, but said she felt obliged to fight on and urged others to do so. Photograph: The Guardian
Berta Cáceres, leader and co-founder of the Council of Indigenous Peoples of Honduras (COPINH), was shot dead in her home
on March 3 in the town of La Esperanza, in the province of Intibucá, west Honduras. Human rights organizations have condemned the killing and call for the government of Honduras to take steps to find the killers and bring them to justice. Between 2010 and 2014, 101 campaigners were killed in Honduras, a higher death toll relative to population than anywhere else, according to the study How Many More? by NGO Global Witness. It said a disproportionately high number of them were from indigenous communities who resisted development projects or the encroachment of farms on their territory. Please call for justice for Berta Caceres on your social media.
CHINA
There are fears that a young Tibetan woman, who has been imprisoned for moving the body of a man who set himself on fire, could be subjected to unnecessary medical procedures against her will.
Please write and call for protection for Dolma Tso.
VIETNAM
There are increasing fears for the safety and security of Vietnamese Trần Minh Nhật, a former prisoner of conscience, who is facing ongoing harassment, intimidation and other human rights abuses by police in the province of Lâm Đồng in the south of Việt Nam.
Please act on his behalf.
EU/GREECE
Thousands of refugees, asylum seekers and migrants
are trapped in Greece in dire conditions,
with no access to protection due to arbitrary and discriminatory border closures on the Western Balkans route. As thousands are arriving, the humanitarian situation will deteriorate unless EU states urgently start accepting refugees from Greece.
The EU-Turkey agreement now being worked out is a calamity. We quote from Amnesty International
"EU and Turkish leaders have today sunk to a new low, effectively horse trading away the rights and dignity of some of the world's most vulnerable people. The idea of bartering refugees for refugees is not only dangerously dehumanising, but also offers no sustainable long term solution to the ongoing humanitarian crisis,"
said Iverna McGowan, Head of Amnesty International's European Institutions Office.
Please protest to the EU.
TURKEY
Syrian refugee M.K. has been arbitrarily detained under inhumane conditions at Istanbul's Sabiha Gökçen Airport since 9 November 2015. He is at risk of being returned to Syria, where his life would be in danger. P
lease act at once to save his life.