Miriam, human rights defender, 1947-2012


HE WHO PERMITS OPPRESSION PERMITS CRIMES.-Erasmus (1466-1536)
Desiderius Erasmus in 1523 as depicted by Hans Holbein the Younger. The Greek and Latin words on the book translate to "The Herculean Labors of Erasmus of Rotterdam".
Survival International provides a usefu

l

tool for locating the embassy of any country in your country. http://embassy.goabroad.com/ You can also find embassies at https://embassy-finder.com/
CHARITY CORNER
This week your attention is drawn to
Doctors Without Borders (MSF)
which was founded in 1971 as a new brand of humanitarianism.
Women's health is central
They are committed to remaining neutral, impartial, and ethical in their work around the globe. MSF was awarded the Nobel Peace Prize in 1999. It is now of particular importance to donate to them because t
hey have refused to accept EU money
on ethical principles in the wake of the deal cut with Turkey on the refugee crisis.
They have a
very high rating with Charity Navigato
r and are certainly worthy of support of all people of good will. You may donate via either the home page or the Charity Navigator evaluation.
GOOD NEWS!
Syrian Refugees Released
Seven of the 12 Syrian refugees
detained in Düziçi camp, Osmaniye province, in southern Turkey, were released on 20 May. The other five, a woman and her four children, requested to be voluntarily returned to Syria and were taken to the Syrian border on 19 May.
No further action is requested from the UA Network. Many thanks to all who sent appeals.
INDIGENOUS PEOPLE
Indigenous tribes do not simply die out. They are killed by the actions of so-called civilized nations.
Survival International
provides a long list of cases in which a letter from you can and will make a difference. Please open this link and write at least one letter. This link will be a permanent feature on our blog and we would be grateful if you gave it a bit of attention each week. We suggest going down the list in the order given. The letters are pre-written for you. All you need to do is send them. It would be nice also if a donation to Survival International could be forthcoming. This week we call your attention to the
native peoples of the of the Sierra Nevada:
four unique, related tribes who live on the slopes of the Sierra Nevada de Santa Marta in northern Colombia. Unfortunately the natural wealth of their land is attracting damaging "development" projects.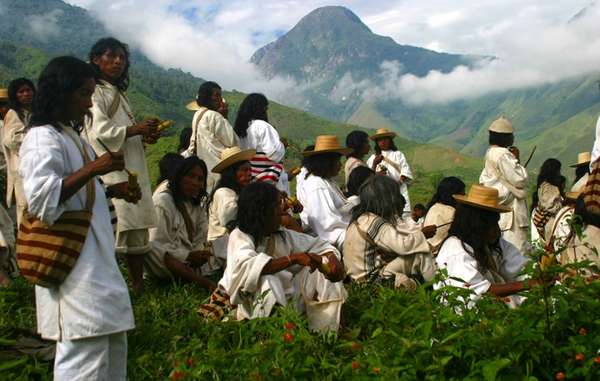 © Danilo Villafañe
The Sierra Indians call themselves 'the older brothers', and believe that they have a mystical wisdom and understanding which surpasses that of others. They refer to outsiders as 'the younger brothers.' The older brothers believe it is their responsibility to maintain the balance of the universe. When there are hurricanes, droughts, or famines around the world it is said that they are the cause of human failure to keep the world in harmony. Please act as indicated on the Web page by raising your voice to the government of Colombia.
Balance is achieved by making offerings to the sacred sites to give back to the earth what is taken out of it. We have something to learn from them.
THE STRUGGLE AGAINST SLAVERY
We have added a new section to the blog in order to join the struggle against slavery worldwide. This week we refer you to the the ILO's Protocol on Forced Labor which is all about modern slavery. We call your attention to
the end slavery now
campaign. There you can download a slave-free buying guide and also sign up for action updates.The importance of checking your sellers' supply chains cannot be overemphasized.
Look for these logos:
The Australian
Walk Free Foundation
has come out with a new report on modern slavery that deserves to be read carefully. They show an illustrative map of the prevalence of slavery in the world.
Blast it out and make it go viral. Light must be made to shine in the darkest of places.
EUROPE AND WORLDWIDE
An EU official has told AFP that a meeting has been scheduled for 6 June, in which the member states will try to come to a consensus on whether or not to reauthorize the use of the controversial chemical. An option that is currently on the table is to extend the existing authorization period until the middle of next year.
Spraying crops. (photo: Getty Images)
Glyphosate is one of the most used ingredients in pesticides in the EU, but its potentially carcinogenic nature has brought its use under close scrutiny. A decision on whether to grant it a multi-year extension has already failed to materialize twice because of disagreements between member states.
Please EU people, l
et your government know that you are against buckling under to Monsanto. In a study in the US,
glyphosate was found in the urine of 91% o
f the subjects tested. This stuff must be banned!
CHINA
Two Chinese activists, Jiang Yefei and Dong Guangping, are at risk of torture and other ill-treatment and unfair trial. The two were recognized as refugees by the UN's Refugee Agency, but were forcibly returned to China from Thailand in violation of international law. One had been held in incommunicado detention for more than six months and the whereabouts of the other remain unknown.
Please act to help them.
Jiang Yefei
SOUTH AFRICA:
Investigate the Killing of Sikhosiphi Rhadebe
Sikhosiphi Rhadebe, land rights activist and chairperson of the Amadiba Crisis Committee (ACC), was shot dead in March. Shortly before his death he learnt that his name was on a 'hit list' and so were those of two other leaders of the ACC. There are concerns over how the investigation of Sikhosiphi Rhadebe's murder is being handled and for the safety of the two ACC leaders and other anti-mining activists in Xolobeni.
Please call for an investigation.
MOZAMBIQUE:
Protect Benedito Sabão
Benedito Sabão was arbitrarily arrested, detained and shot by suspected secret service police, allegedly for supporting RENAMO, the main opposition party in Mozambique. While he survived the attempt and is now receiving medical care in a pr
ivate clinic in Maputo, the capital, he is still subject to threats.
Please write on his behalf at once.
INDIA
Global drink and snacks giant PepsiCo is complicit in ongoing human rights violations by a warehouse provider in the Indian state of West Bengal. Since 2013, IUF members have been supporting a courageous group of warehouse workers who are unemployed as a consequence of insisting on their right to form a trade union. The company which dismissed them - Radhakrishna Foodland Pvt. Ltd (RKFL) -operates a warehouse contracted exclusively to PEPSICO.
Please join the protest to Pepsico.