Miriam, human rights defender, 1947-2012
EMBASSY FINDER
Survival International provides
a useful tool
for locating the embassy of any country in your country.
http://embassy.goabroad.com/ You can also
find embassies
at https://embassy-finder.com/
CHARITY CORNER
In the wake of the closing of the Titan and Pollyanna blogs, we are continuing the charity corner here. This week, we are
referring you to Unitaf,
the social initiative of the Yehuda Tribitch Fund for Social Involvement, which operates a network of day care and after-school centers for the children of migrant workers and asylum seekers in Tel Aviv.
The initiative has a high transparency rating from Israel Gives.
Please donate to this worthy organization.
INDIGENOUS PEOPLE
Indigenous tribes do not simply die out. They are killed by the actions of so-called civilized nations. Survival International provides a long list of cases in which a letter from you can and will make a difference. Please open this link and write at least one letter. This link will be a permanent feature on our blog and we would be grateful if you gave it a bit of attention each week. We suggest going down the list in the order given. The letters are pre-written for you. All you need to do is send them. It would be nice also if a donation to Survival International could be forthcoming.
This week we call your attention to the expulsion of indigenous people from their ancestral homes in order to create parks. Survival contends that parks need people. The lives of tribal people across India are being destroyed in the name of tiger conservation. This is illegal under national and international law. And it will not save the tiger.
Please act as requested in the site.
Tourists will damage the tigers more than the local people.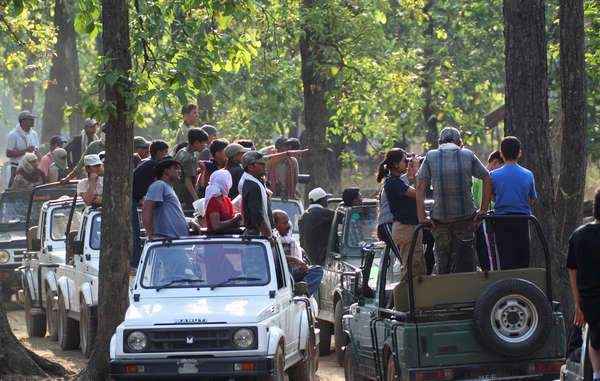 © Brian Gratwic
THE STRUGGLE AGAINST SLAVERY
We are adding a new section to the blog in order to join the struggle against slavery worldwide. We refer you to the site of
Walk Free
where you can find a large number of campaigns against manifestations of slavery in different countries. The number of people living in slavery is of the order of 35 million, which indicates the extent of the problem. We suggest that you look up the Fair Trade movement in your country and make an effort to avoid buying slave-produced products. Just look for this logo:
This week we deal with palm oil and we focus on the Pepsico Corporation. We say:PepsiCo: Commit to Slavery-Free, Responsible Palm Oil! Pepsico uses much palm oil and has not make efforts in the past to ask how the cheap palm oil that it needs is produced. The campaign is ongoing. Campaign Update:
We recently received PepsiCo's new palm oil procurement policies. We commend PepsiCo for making a public commitment against forced labour in its supply chain but are calling on the company to: commit to 100% independent traceability of all palm oil, and effective, immediate enforcement, monitoring and independent verification at all levels of their palm oil supply chain to ensure that this commitment is implemented.
Please join the campaign using the clickable form.
Please note that Amnesty have changed their UA format to make it even easier to respond.
NIGERIA
7,000 have died at the Nigerian military's hands.
Demand justice.
Since 2011 the Nigerian military has arrested at least 20,000 people in north-east Nigeria on suspicion of being Boko Haram members. More than 7,000 suspects died in military detention from torture, starvation, disease or were simply shot.
CZECH REPUBLIC
End the ethnic discrimination of Romani children in schools. Romani children in the Czech Republic are not getting the education that is their right.
Please act.
SOUTH KOREA
Persuade the South Korean authorities to stop the imprisonment of conscientious objectors. There are 10.000 of them in prison.
Please plead on their behalf.
THE HOLY SEE
Pope Francis is coming to Washington, D.C. to canonize Junipero Serra as a Saint. It is imperative he be enlightened to understand that Father Serra was responsible for the deception, exploitation, oppression, enslavement and genocide of thousands of Indigenous Californians, ultimately resulting in the largest ethnic cleansing in North America.
Please join the call to stop the canonization of this evil man.