Miriam, human rights defender, 1947-2012
HE WHO PERMITS OPPRESSION PERMITS CRIMES.-Erasmus (1466-1536)
Desiderius Erasmus in 1523 as depicted by Hans Holbein the Younger. The Greek and Latin words on the book translate to "The Herculean Labors of Erasmus of Rotterdam".
Survival International provides a useful
tool
for locating the embassy of any country in your country. http://embassy.goabroad.com/ You can also
find embassies
at https://embassy-finder.com/
CHARITY CORNER
A dedicated team of caregivers at one of our CF clinics
This week we ask you to donate to an Israeli charity, the
Cystic Fibrosis Foundation of Israel
. Cystic Fibrosis is a progressive, genetic, multi-system disease to which there is no cure. In Israel, there are some 350,000 CF carriers and 650 patients, half of whom are children.
The Cystic Fibrosis Foundation of Israel emotionally and financially supports all the CF patients in Israel as well as their families. Given the progressive nature of their disease, CF patients require intensive and time consuming daily treatments that include lung drainage, inhalation, medication and daily physiotherapy sessions. Due to the high risk of infection from other diseases, CF patients are frequently hospitalized for short term intensive treatments. Cystic Fibrosis patients have to undergo daily treatment that last 4 hours and include taking 50 different kinds of medications. Please donate.
INDIGENOUS PEOPLE
Indigenous tribes do not simply die out. They are killed by the actions of so-called civilized nations.
Survival International
provides a long list of cases in which a letter from you can and will make a difference. Please open this link and write at least one letter. This link will be a permanent feature on our blog and we would be grateful if you gave it a bit of attention each week. We suggest going down the list in the order given. The letters are pre-written for you. All you need to do is send them. It would be nice also if a donation to Survival International could be forthcoming. We send you to the
campaign page
and urge you to choose a cause to support.
View this video.
We suggest you consider the plight of the Harpy Eagle tribe in Brazil.
Waves of ranchers and other settlers are overrunning the territory of a recently-contacted Brazilian tribe with the support of local politicians. It is being described in the region as "the worst land invasion in decades" and could wipe out nearby
uncontacted people
.
The Uru Eu Wau Wau Indians are known as the "Harpy Eagle" people, as they use the bird's huge feathers to make hunting arrows and headdresses. They call their uncontacted neighbors the Jururei, meaning "brave ones."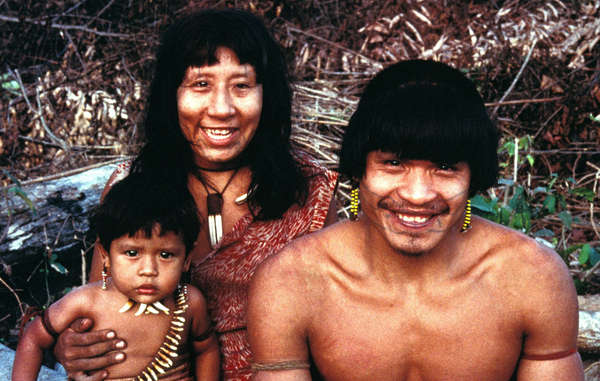 © Fiona Watson/Survival (1991)
We know very little about uncontacted peoples, but we do know that
whole populations are being wiped out
by genocidal violence from outsiders who steal their land and resources, and by diseases like flu and measles to which they have no resistance. The Uru Eu Wau Wau were decimated following first contact in the 1980s. Please open this link and share the story on all your social networks to cause embarrassment to the Brazilian government and to make them protect the land rights that were given to this tribe 25 years ago.
THE STRUGGLE AGAINST SLAVERY
We have added this section to the blog in order to join the struggle against slavery worldwide. This week we refer you to the the
ILO's Protocol on Forced Labo
r which is all about modern slavery. We call your attention to the
anti slavery campaign.
There you can sign up for action updates.The importance of checking your sellers' supply chains cannot be overemphasized.
Look for these logos:
Find a campaign to work for. Light must be made to shine in the darkest of places.
We again ask you to
help end the slavery
in the cotton fields of Uzbekistan and Turkmenistan.
RUSSIAN FEDERATION
Sentences of Two Ukrainian Men Upheld After Unfair Trial
On 26 October the Russian Supreme Court upheld the conviction of Stanislav Klykh and Mykola Karpyuk who had been sentenced after an unfair trial to 20 and 22 years respectively for allegedly killing Russian soldiers in Chechnya in 1994 – 1996.
Please act for them.
CHINA
More Action Needed! - Release Last G20 Journalist In Detention
One of the citizen journalists detained for covering protests prior to the G20 summit, Yuan Ying, was released on 27 October and sources have attributed international pressure, including action taken by Amnesty International, to her release. The last of the six citizen journalist's from the Sichuan-based website "64 Tianwang", Qin Chao, is still being detained.
Please call for his release.
VIET NAM
Take Action! - Three Environmental Activists Face Harassment And Risk Arrest
Three human rights defenders engaged in activism relating to an ecological disaster in Viet Nam are facing severe harassment, including public denunciations, prosecution and death threats. They could be arrested for "conducting propaganda" against the state.
Please call upon the authorities
to end the harassment, attacks and threats against peaceful activists immediately.
CAMEROON
Fomusoh Ivo Feh Facing 20 years in jail for a text
Fomusoh Ivo Feh was just about to start university when an SMS message changed everything. One
day, he forwarded a sarcastic text to a friend. The message joked that even Boko Haram (an armed group), wouldn't hire you unless you passed five high school subjects. That text got Ivo arrested. Now he faces up to 20 years in prison. He is a prisoner of conscience.
Please open the link
and take the steps requested, especially the download of the case sheet.