Miriam, human rights defender, 1947-2012
HE WHO PERMITS OPPRESSION PERMITS CRIMES.-Erasmus (1466-1536)
Desiderius Erasmus in 1523 as depicted by Hans Holbein the Younger. The Greek and Latin words on the book translate to "The Herculean Labors of Erasmus of Rotterdam".
Survival International provides a useful
tool
for locating the embassy of any country in your country. http://embassy.goabroad.com/ You can also
find embassies
at https://embassy-finder.com/
CHARITY CORNER
This week we call your attention to a major international human rights defender,
Human Rights Watch.
They monitor human rights violations around the world. Their mission statement:"Human Rights Watch exposes human rights abuses like torture, violence against women, and child exploitation. In order to maintain our independence, we accept no money from any government.
We rely solely on the generosity of people like you to defend human rights."

Nobel Prize Winner
Human Rights Watch shared in the Nobel Peace Prize for helping to establish the 1997 Mine Ban Treaty that protects civilians from the brutality of weapons that main and kill indiscriminately.
Please open the site and donate.
INDIGENOUS PEOPLE
Indigenous tribes do not simply die out. They are killed by the actions of so-called civilized nations.
Survival International
provides a long list of cases in which a letter from you can and will make a difference. Please open this link and write at least one letter. This link will be a permanent feature on our blog and we would be grateful if you gave it a bit of attention each week. We suggest going down the list in the order given. The letters are pre-written for you. All you need to do is send them. It would be nice also if a donation to Survival International could be forthcoming. We send you to the
campaign page
and urge you to choose a cause to support.
View this video.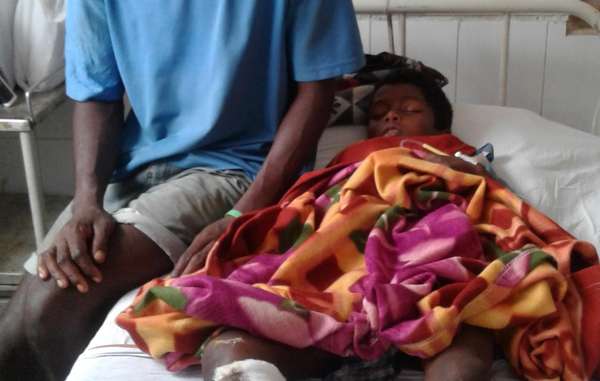 A park guard in India's infamous "shoot on sight" national park has shot a 7 year-old tribal boy. Akash (pictured) is in a critical condition and may lose his leg.
THE STRUGGLE AGAINST SLAVERY
We have added this section to the blog in order to join the struggle against slavery worldwide. This week we refer you to the the
ILO's Protocol on Forced Labo
r which is all about modern slavery. We call your attention to the
anti slavery campaign.
There you can sign up for action updates.The importance of checking your sellers' supply chains cannot be overemphasized.
Look for these logos:
Find a campaign to work for. Light must be made to shine in the darkest of places.
alone and at risk of slavery: UNACCOMPANIED CHILD REFUGEES
Please act for the unaccompanied children arriving in Europe from war zones.
Venezuela
More Action Needed! - LGBT Activist And Prisoner Of Conscience Requires Medical Care
Prisoner of conscience Rosmit Mantilla was scheduled to undergo surgery on 31 October, however, despite a court order, agents of the Bolivarian National Intelligence Service have taken him back to prison, where he was placed in a punishment cell while his health continues to deteriorate.
Please act on his behalf.
Take Action! - Four Young Men Arrested After Publishing Video
Andrés Moreno Febres-Cordero, Marco Trejo, James Mathison and César Cuellar were arrested at the end of September for producing a video for the opposition party Primero Justicia. They are worryingly being tried for peacefully exercising their right to freedom of expression.
Please call for their release since no crime has been committed.
Russian Federation
Take Action! - Prisoner Of Conscience Writes Of Torture
In a
letter
addressed to his wife and published on a news website on 1 November, prisoner of conscience Ildar Dadin revealed that prison staff, including the director of the prison colony in Segezha, in the Karelia region of Russia, have beaten and tortured him since his arrival on 10 September.
Please act for him.
Singapore
Take Action! - Activists Fined For Peaceful Protest
Three activists have been convicted for organising a peaceful protest in 2014 and have been ordered by the court to pay substantial fines.
Please call for the
quashing of their convictions and the cancellation of the fines.
Turkey
Take Action! - Massive Crackdown On Media After July Coup Attempt
Nine journalists and board members of the opposition daily Cumhuriyet were imprisoned pending trial on 4 November. At least 112 journalists and other media workers have been remanded in pre-trial detention since the 15 July coup attempt and the declaration of the state of emergency on 21 July. A total of 169 media outlets have been shut down during the same period by executive decree.