Miriam, Human Rights defender, 1947-2012
HE WHO PERMITS OPPRESSION PERMITS CRIMES.-Erasmus (1466-1536)
Desiderius Erasmus in 1523 as depicted by Hans Holbein the Younger. The Greek and Latin words on the book translate to "The Herculean Labors of Erasmus of Rotterdam".
Survival International provides a useful
tool
for locating the embassy of any country in your country. http://embassy.goabroad.com/ You can also
find embassies
at https://embassy-finder.com/
CHARITY CORNER
This week we call your attention to
Oxfam International
, a most effective NGO that is one of the first, if not the first relief body on site when a disaster strikes.
Oxfam is an international confederation of 18 organizations working together with partners and local communities in more than 90 countries. Their mission:
One person in three in the world lives in poverty. Oxfam is determined to change that world by mobilizing the power of people against poverty.

Around the globe, Oxfam works to find practical, innovative ways for people to lift themselves out of poverty and thrive. We save lives and help rebuild livelihoods when crisis strikes. And we campaign so that the voices of the poor influence the local and global decisions that affect them.

In all we do, Oxfam works with partner organizations and alongside vulnerable women and men to end the injustices that cause poverty.
Ongoing conflict with Boko Haram, across West Africa's Lake Chad Basin region, has forced more than 2.6 million people to flee terrifying violence in Nigeria, Niger and Chad. Having left everything behind, their homes ruined and their lives completely disrupted, they live in extreme vulnerability. You can help.
Please donate
INDIGENOUS PEOPLE
Indigenous tribes do not simply die out. They are killed by the actions of so-called civilized nations.
Survival International
provides a long list of cases in which a letter from you can and will make a difference. Please open this link and write at least one letter. This link will be a permanent feature on our blog and we would be grateful if you gave it a bit of attention each week. We suggest going down the list in the order given. The letters are pre-written for you. All you need to do is send them. It would be nice also if a donation to Survival International could be forthcoming. We send you to the
campaign page
and urge you to choose a cause to support.
View this video.
This week we direct your attention to
the aboriginal people of Australia.
There are many ways to help them, vid. the end of the web page.
THE STRUGGLE AGAINST SLAVERY
We have added this section to the blog in order to join the struggle against slavery worldwide. This week we refer you to the the
ILO's Protocol on Forced Labo
r which is all about modern slavery. We call your attention to the
anti slavery campaign.
There you can sign up for action updates.The importance of checking your sellers' supply chains cannot be overemphasized.
Look for these logos:
Find a campaign to work for. Light must be made to shine in the darkest of places.
Help victims of enslavement in the UK.
It should not be tolerated anywhere, but certainly not in a country of Western Europe.
CUBA
Take Action! - Human Rights Lawyers Face Intimidation By Authorities
Members of Cubalex, a Havana-based organization of human rights lawyers, have been subjected to months of harassment and intimidation by the Cuban authorities for their work.
Please protest
to the Cuban authorities
FRANCE
Take Action! - Two Young Men At Serious Risk If Returned To Sudan
Two young Sudanese nationals are at risk of being forcibly returned from France to Sudan, where they would be at real risk of serious human rights violations. The two men are in a detention centre near Paris awaiting their expulsion.
Please act on their behalf.
ARGENTINA
More Action Needed! - Social Leader Remains In Arbitrary Detention
The social leader Milagro Sala has been arbitrarily detained since 16 January. The Argentine government has not complied with the UN decision of 27 October ordering her immediate release.
Please call for her immediate release.
MYANMAR
Take Action! - Safety Concern For Communities In Northern Rakhine State
After attacks on police outposts in the north of Myanmar's Rakhine State, the authorities initiated a major security operation placing thousands of already vulnerable people at risk. Amid reports of human rights violations by security forces, access for humanitarian organizations, independent journalists and human rights monitors has been restricted.
Please raise your voice in protest.
We
append a description
of what is happening every day to the Rohingya population.
MALAWI
Demand that Malawi protect Annie Alfred and other people with albinism from murder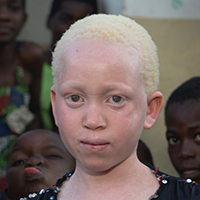 Annie Alfred is like any other child in Malawi, but some people believe her body has magic powers. Annie was born with albinism, an inherited condition that prevents her skin cells from producing enough color. And like other people with albinism in Malawi, Annie could be killed for her body parts because some think this will make them rich. Thousands like Annie are at risk. Demand that Malawi protect people with albinism from murder.
Please sign the petition calling for protection for albinos.
IRAN
Teacher union leader from Tehran, Mr Esmail Abdi has been sentenced to six-year jail on bogus charges, including one for "assembling and colluding against national security". These charges are unjust and contravene various human right conventions, including those protecting freedom of expression and association, as well as the right of unions to be consulted on education policies. The authorities are attempting to silence teachers' grievances through repression and the extended incarceration of unionists and activists.
Please join the protest.
If you get my details, erase them and add your own.