Miriam, human rights defender, 1947-2012
Disclaimer: Any ads or commercial material appearing with this blog ha

ve

been placed there without permission of the

owner of the blog. Please ignore them.
HE WHO PERMITS OPPRESSION PERMITS CRIMES.-Erasmus (1466-1536)
Desiderius Erasmus in 1523 as depicted by Hans Holbein the Younger. The Greek and Latin words on the book translate to "The Herculean Labors of Erasmus of Rotterdam".
Survival International provides a useful
tool
for locating the embassy of any country in your country. http://embassy.goabroad.com/ You can also
find embassies
at https://embassy-finder.com/
CHARITY CORNER
This week we recommend
Direct Relief
, rated highly by Charity Navigator.
Where the aid goes

INDIGENOUS PEOPLE
Indigenous tribes do not simply die out. They are killed by the actions of so-called civilized nations.
Survival International
provides a long list of cases in which a letter from you can and will make a difference. Please open this link and write at least one letter. This link will be a permanent feature on our blog and we would be grateful if you gave it a bit of attention each week. We suggest going down the list in the order given. The letters are pre-written for you. All you need to do is send them. It would be nice also if a donation to Survival International could be forthcoming.
This week we raise the issue of
enforced "progress."
and its deadly effect on uncontacted tribes. For example:
Please open the links and post them wherever you can.
THE STRUGGLE AGAINST SLAVERY
We have added this section to the blog in order to join the struggle against slavery worldwide. This week we refer you to the the
ILO's Protocol on Forced Labo
r which is all about modern slavery. We call your attention to the
anti slavery campaign.
There you can sign up for action updates.The importance of checking your sellers' supply chains cannot be overemphasized.
You can download this book
Look for these logos:
Find a campaign to work for. Light must be made to shine in the darkest of places. Think of
Uzbekistan when you shop for clothing.
Over a million people are estimated to be forced to pick cotton in Uzbekistan and Turkmenistan by their own governments every year.
JAPAN
Urgent Action Victory! Okinawa Activist Released On Bail After Five Months
Hiroji Yamashiro, 64 years of age, has been released on bail after five months in detention without being able to see his family. Arrested for his role in protests against new U.S. military construction projects in Okinawa, his next court hearing is scheduled for 27 March 2017.


CHINA
Urgent Action Update: Tibetan Activist Remains Arbitrarily Detained
Prisoner of conscience, Tashi Wangchuk, has been detained for over a year and has yet to be informed by Chinese authorities of the charges against him.
Please take action on his behalf.
CUBA
Urgent Action Update: Defender Sentenced After Criticizing Castro
Cuban authorities sentenced human rights defender
Eduardo Cardet
to three years in prison after holding him in provisional prison in Holguín, south-east Cuba, since November 2016. He is a prisoner of conscience who must be released immediately and unconditionally.
Please act for him.
USA
Urgent Action: Execution Set After 25 Years On Death Row
Don Davis is scheduled to be executed in Arkansas on 17 April. He has been on death row for 25 years, having been sentenced to death in 1992 for a murder committed during a burglary in 1990. Twenty seven years old at the time of the crime, he is now 54.
Please call for clemency and commutation of his sentence.
ITALY
Urgent Action: Hundreds Of Roma At Risk Of Forced Evacuation
A community of approximately 1300 Romanian Roma is facing an imminent forced eviction from the informal settlement of Gianturco in Naples, in southern Italy. Around 200 of the Roma will be rehoused by the municipality in a newly built segregated camp in Via del Riposo. The rest risk being rendered homeless. The municipal authorities have so far failed to carry out a genuine consultation to identify adequate alternative housing.
Please call for a halt to the eviction and humane treatment towards the Roma.
INDONESIA
Coca-Cola's bottler determined to stifle independent unions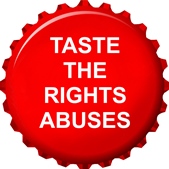 Coca-Cola's Australian-based bottler Coca-Cola Amatil is systematically violating basic rights in an effort to stamp out independent and democratic trade unions at its Indonesian operations. And Coca-Cola corporate management in the US knows the full history but has failed to remedy the abuses.
Please speak up for abused workers.